To anyone who admires tradition, the business of making cars has always had a kind of simple elegance. For three-quarters of a century, we have done it basically the same way, measuring our success in terms of design, performance, production and sales. We honor operational excellence.
But one complicating factor -- becoming more evident every day -- is that those who make the cars don't handle the retail end of the business. While this division of labor is common in almost every consumer product industry, it can, and often does, become a problem when very expensive merchandise is being sold.
Those of us on the manufacturer's side believe devoutly in customer satisfaction. Yet dealership personnel, the salespeople who represent us but whom we do not employ, often act in ways that consumers dislike. In their off-putting urgency to close a deal, the salespeople are simply reacting to some of the industry's harsher facts of life. For them, the combination of high overhead and a surfeit of competitors in the same geographic area (some even selling the same line of cars) always makes it imperative to press for an immediate sale.
As bothersome as that practice is, it did not mean much until recently. We could always count on the consumers to buy at dealerships, because they had no other place to go.
But this customer-as-afterthought approach to selling cars will soon go the way of the Model T. The balance of power is about to tilt radically to consumers, who now have alternatives to factory-authorized dealerships. Sales via the Internet, car "brokers" and giant auto malls, among other new options, now represent only a small fraction of the total, but they are certain to grow. And it won't take a large percentage to shake loose the foundation of our business -- the traditional manufacturer/dealer distribution pipeline -- and with it a large measure of control over inventory and pricing decisions.
That the auto industry will almost certainly be called to account for all those years of failing to nurture buyer loyalty will not surprise anyone associated with other consumer-oriented businesses. But it has come as a shock to many of us at automotive industrial companies, where the reason for existence has been to "move the metal."
Last year, although Nissan had dramatically recovered from a slump in sales during the late 1980's and was basking in success, I became convinced that the way we were doing business would not help us meet the challenges of the new marketplace.
The problem lay not with our manufacturing processes -- Nissan efficiently delivers an excellent product -- but in how we interact with the market. So I personally led our company management on an overhaul of our thinking in what amounted to a conceptual re-engineering. The goal was to insure Nissan's future success by developing an innovative mind-set, one that says we can break away from the industry and chart a new course.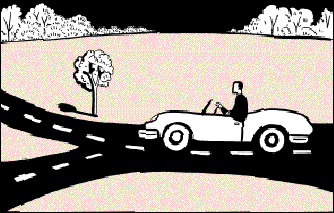 Conceptual re-engineering is analogous to other types of re-engineering in the sense that we had to rethink our business rationale, from top to bottom. We examined our assumptions about the kind of company we are, the kind of industry and competitive market we are in, the needs and expectations of consumers and how we want to achieve success. We had to peel away layers of rote thinking that served to protect the status quo. Only then could we uncover the principles that we wanted to express as individuals and as a company.
Toward that end, we created what we came to call our "Belief Stream." Before tackling the obligatory vision and mission statements, we settled on the things that we believed about the industry and Nissan and the values that we wanted to stand for.