In short, the notion of cannibalization is a flawed excuse for shying away from the unknown, and missing the chance to capitalize on a potentially lucrative business transformation. As the Barnes & Noble example shows, a Web business doesn't have to hurt real-world sales, especially if a retailer's stores offer good prices on a large selection in a pleasant atmosphere. Furthermore, it's likely that much of the business Web retailers are attracting, especially in a thriving economy, is actually made up of new customers — people who prefer the Web to a store or who unexpectedly find something to purchase while browsing the Net. In the end, they add to overall retail sales.
For many established retailers, the fear of repeating Barnes & Noble's mistake — specifically, forfeiting opportunities because they were too hesitant — is beginning to eliminate fear of the Internet. "The inevitability of the Internet as a place to be is setting in among retailers," says retail industry watcher Kurt Barnard, publisher of Barnard's Retail Trend Report. "They once thought they had a choice or could somehow escape e-commerce, but that idea is obsolete."
Toys "R" Us had to hit rock bottom before its management understood this, though. Last April, after a dismal 1998 in which it handed off its position as the No. 1 toy seller to Wal-Mart and then posted a net loss of $132 million in January 1999 (see Exhibit 1), then-Toys "R" Us-CEO Robert C. Nakasone signed an agreement with Benchmark Capital, a Menlo Park, Calif.-based venture capital firm, to team up in creating the Toys "R" Us Web site. Benchmark, which funded eBay Inc. and more recently the Michael Jordan, John Elway, and Wayne Gretzky startup MVP.com, and which was investing $10 million in Toysrus.com, thought it was supposed to recruit a management team with e-commerce experience that would set the business up as an independent operation in Northern California.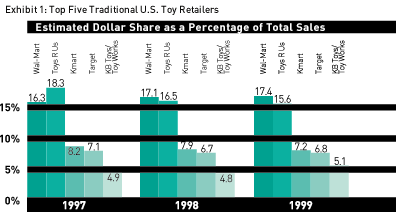 In theory, that was Toys "R" Us's view as well, but neither Mr. Nakasone nor Chairman Michael Goldstein was willing to follow through. Typical of the stop-and-go effort was a meeting in May between the top brass at Toys "R" Us and A. Robert Moog, a Silicon Valley toy executive and a Benchmark associate who had taken the job as CEO of Toysrus.com. Mr. Moog laid out a plan to cut toy prices on the Web site below even Toys "R" Us store prices, as well as those offered by eToys and other competitors. Perhaps, Mr. Moog thought, this would put online rivals in a difficult financial position that would undermine their ability to ramp up inventory and marketing for Christmas. That, in turn, would give Toysrus.com the edge with online holiday shoppers.
But Toys "R" Us executives shut Mr. Moog down, refusing to do anything that might undercut their stores and anger retail managers. "They kept talking about what they've done in the past and how only that will make them successful in the future. And that meant, in other words, focusing only on the stores, even though they weren't doing very well anymore," says Mr. Moog, who today heads two puzzle companies he founded, University Games Inc. and areyougame.com. "They definitely were not willing to look at new paradigms for doing business."
Toys "R" Us also, as it turns out, wasn't interested in looking for new California office space for Toysrus.com, and flinched at giving Benchmark too big a stake or too much decision-making power. "If they want the magic of a Silicon Valley startup, traditional companies have to let the teenagers go to college; they have to let an independent operation be free to move away, use the name and brand, and create something out of it. But Toys 'R' Us was clearly not ready for this," says Robert C. Kagle, a general partner at Benchmark, which is no longer involved with Toysrus.com.