Meanwhile, Wal-Mart and its ilk tapped a vein with customers, mainly because just as these stores entered the toy market, Toys "R" Us was completely losing touch with kids' changing tastes. "The problem was they took their advertising slogan, 'I want to be a Toys "R" Us kid,' too seriously; fewer and fewer kids actually felt that way," says Forrester's Ms. Williams.
While the discounters stocked up on videos, computer games, interactive toys, and anything electronic early on, Toys "R" Us mostly ignored this trend until the late 1990s. At the same time, the retailer made mistakes like ordering an additional 150,000 Holiday Barbies in mid-December 1997. When January rolled around, Toys "R" Us still had about 153,000 Barbies left.
"There was an institutional hubris, a whistling-past-the-graveyard mentality," says one Toys "R" Us insider, who recalls a meeting of top executives led by then-CEO Mr. Goldstein around the time of the Holiday Barbie fiasco. When questioned about the expensive inventory and Concept 2000 mistakes and how the company was going to get back on track, Mr. Goldstein refused to admit to the recent failures; instead, he said abruptly: "If we build it, they'll come; if we offer it, they'll buy it."
It's unlikely that Toys "R" Us could have done much about Wal-Mart's incursion into its business, retail analyst Kurt Barnard says, but the company could at least have prevented some of the erosion had it simply kept doing what it did under Mr. Lazarus: adapting and improving the brand to respond to new conditions while retaining the positive values that customers identified with the retailer. That would have meant incrementally updating the stores, improving customer service, adding to the product mix with items that could be sold at its traditional low prices, anticipating the next hot toys, and promoting those toys heavily with special offers.
The toll of lagging behind in this pre-Internet business transformation was significant. By the end of the decade, the company's market share had slipped from 25 percent in 1990 to 15.6 percent in 1999, 1.8 percentage points behind Wal-Mart, which had barely had any toys on its shelves 10 years earlier. Just as badly, Toys "R" Us's annual inventory turnover had dropped to 2.6 in 1999, compared to 3.8 for the toy and hobby retailing industry and Wal-Mart's 5.5. And to make matters worse, toy sales have been sluggish since the mid-1990s, rising an average of only about 5 percent per year. (See Exhibit 2.)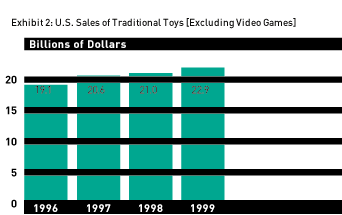 With these problems already hanging over Toys "R" Us last year, the Web meltdown was the last thing the retailer needed. It was a sure sign that something was woefully wrong at the company. Nothing it was doing was working. Investors got this message all too clearly. Soon after Mr. Moog quit as head of Toysrus.com last June, the stock tumbled from about $25 per share to below $15 in August, when the Benchmark deal broke down. The board of Toys "R" Us had seen enough; Mr. Nakasone was fired as CEO. Former CEO Mr. Goldstein was reinstated, but not for long. In January 2000, FAO Schwarz CEO John Eyler got the post.
The executive revolving door shook up Toys "R" Us — and, as most retail analysts see it, created a turning point. Gone was any notion of invincibility or the arrogant view that the company's destiny was nothing but rose-colored. In short, Toys "R" Us finally came to recognize that its world had changed, and it had to change, too.
The company's suddenly altered state was what convinced John Barbour to take the job to run Toysrus.com last summer, people who know him say. "I don't think he would have gone there had they not told him they were committed to e-commerce as an independent operation and one that was crucial for Toys 'R' Us's future," says a toy industry expert who spoke with Mr. Barbour at the time of his hiring. "He's got an entrepreneurial streak that fits perfectly with the new attitude at the company."