Seemingly intractable benefits cost increases will also push many employers over the edge. Although sanguine about the "moderate" recent annual premium increases (see Exhibit 3, below), companies are unlikely to be comfortable with many more years of medical inflation outpacing the CPI. Finally, onerous additional ERISA mandates or loss of ERISA protections could send many of the nation's largest employers back to the benefits drawing board.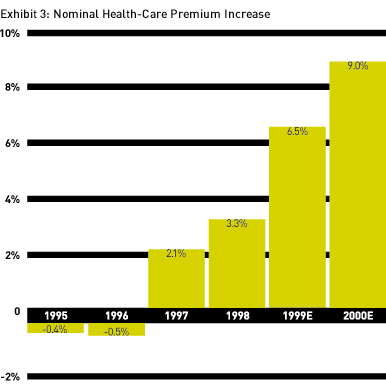 Our conclusion from the survey is that defined-contribution plans will emerge rapidly, but only after a major shock to the economic system, or after cumulative but more moderate changes across the spectrum of employer concerns. That there hasn't been much activity to date is not a sign that the issue is dormant, because we expect the change to occur like a wave that builds and then breaks. Exactly when the defined-contributions wave will break is impossible to project, but it's probably no more than three to five years away.
Complex Solution
Consumers have shown themselves capable of far greater responsibility and independence than many once thought. The rapid acceptance of defined-contribution retirement plans and the increasingly sophisticated use of e-commerce is stunning. The long bull market has certainly helped ease individual investors' downside worries, but even without it, the very concept of defined-contribution retirement plans and the business systems that make them possible must be judged an unqualified success.
Yet it's unlikely that consumers will accept as readily a defined-contribution paradigm in the health-care arena. For one thing, there are few, if any, reliable and accepted performance and quality standards that can guide consumers. Even more significant, retirement planning for most is done with longer-term time horizons in mind. In contrast, the consequences of consumers' health-care decisions are more immediate and potentially more profound, a fact bound to render most more cautious, if not downright conservative.
Perhaps the biggest barrier to overcome is one of conceptualization and expectation. Changes in the health-care system over the past two decades have left most people, and even many industry executives, confused about the very nature of health benefits. Today, even many intelligent consumers conflate two very different concepts, health insurance and a health services plan. The former, the first health benefit offered to employees by their companies after World War II, came generally in the form of a major medical policy that indemnified the employee for expenses above a deductible threshold. Managed care, however, was marketed as a health services plan, in which consumers paid a fixed amount and received an enhanced bundle of services, usually including routine check-ups and preventive care not covered under typical major medical plans. But employees also had to deal with restricted provider panels and more rigorous utilization review.
Employees didn't like these constraints, and they pressured employers and insurers for options, creating an alphabet soup of hybrid arrangements (PPOs, EPOs, POS plans, etc.). But most of these lack the very features that made managed care an economically attractive concept in the first place. The upshot is that today we have health insurance products masquerading as health services plans. This isn't deception on the part of insurers and employers; it is, rather, part of a broader misconception of the changes that have occurred.
Still, the consequences are profound. Many employees' costs have gone up, amplified perhaps by perceptions developed as they tried restricted-panel HMOs (with few out-of-pocket expenses) and then switched back to less restrictive products where deductibles and co-payments are significant features. Employees' experiences with (or beliefs about) managed care have created an expectation that their health benefits will come in the form of a health services plan, not insurance. They are now beginning to experience sticker shock when looking at the costs of high-choice products. This situation is analogous to expecting your car insurance policy to include coverage for washing, waxing, and oil changes, and being surprised when your premium skyrockets.