Digital Plenty
Many of the world's developed economies are enjoying their longest-ever period of uninterrupted non-inflationary growth. Commentators attribute much of this success to the long-heralded power of information and communications technology harnessed to capture productivity gains and build new global markets.
The companies supplying the technology have themselves become drivers of economic growth. Between 1995 and 1998, these high-tech industries accounted for 8 percent of U.S. GDP, and contributed, on average, 35 percent of the nation's real economic growth. By 2006, almost half of the American work force will be employed by industries that are either major producers or intensive users of high-tech products and services.
In turn, business itself is undergoing a competitive revolution. Because of the Internet, small- and medium-sized businesses can now define their marketplaces as global. New business models based on virtual shop fronts, and hybrids of "bricks-and-clicks," are improving choice and convenience for customers. The fundamental economics are changing, and transaction costs are tumbling. It is estimated that U.S. businesses will save about $600 billion from Internet-enabled reengineering by 2002.
Equally intriguing, however, and perhaps even more visible to the average man and woman, will be the revolution in the interplay between government and citizen. Here, the transformation is only just beginning. Starting this year, U.K. citizens can file their tax returns electronically, and in doing so save £10 (U.S.$16). In the U.S., nearly 30 million taxpayers filed electronically in 1999, or close to one in four of the total returns received by the Internal Revenue Service. The 2.5 million U.S. businesses that filed e-returns in 1999 accounted for 84 percent of all business tax revenue. The Singapore government estimates that its similar scheme saves approximately U.S.$35 million per year in administration costs. Through the online delivery of public services, consumers and citizens can benefit from convenience and, in many cases, speed. Since 1998, over 90,000 Singaporean students have applied for higher education online. Meanwhile, Australian job seekers can choose from almost 3,000 jobs a day that private employers place in a government-initiated jobs database.
With such far-reaching impact on government and consumers alike, administrations all over the world are defining their roles in creating the right environment for rapid but balanced knowledge-based economic growth. Best practices for the knowledge economy apply to both "hard" and "soft" infrastructures; hard infrastructure includes, for example, communications networks, while key elements of soft infrastructure include education, cyberlaws, and the ability of government institutions to lead by example. Governments around the world are making differing rates of progress in each. (See Exhibit 1, below.)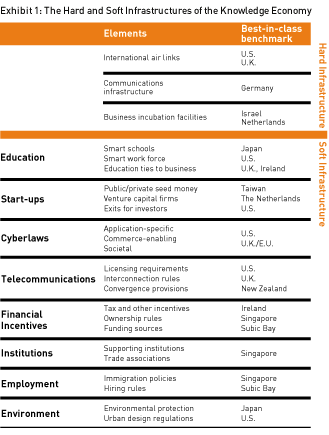 The U.K.'s Divide
For all the prosperity in emerging digital economies, it is clear that even advanced countries are experiencing difficult transitional problems. The Singapore government is addressing a chronic shortage of workers with the right IT skills. Australia faces a problem in connecting its remote rural communities. The U.S. government has for some years now been assiduously monitoring its digital divide among ethnic, socioeconomic, and gender groups.
Like the U.S., the U.K. is experiencing skill shortages and the unbalanced distribution of the benefits of new information technologies. In many respects, however, it is well positioned. British Internet users are Europe's "power users," spending on average more time online than their counterparts in Germany, Scandinavia, and elsewhere. With recent announcements of flat-rate, unmetered access from several providers, which is supplanting the restrictive payment-per-time-unit schemes, the number of power users will rise. In addition, the proportion of companies that are connected is greater in the U.K. than in any other European country.
But Britain is not leading in Internet penetration. According to our study of Internet usage habits, six out of 10 people in the U.S. regularly access the Internet from work, home, or a public access terminal. In Scandinavia, about 40 percent do so. A noticeable gap currently exists between the world's most connected nations and a second tier of nations, which the U.K. leads, with penetration levels in the range of 15 percent to 25 percent. (See Exhibit 2, below.)