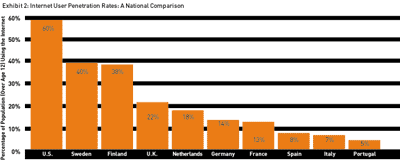 More importantly, almost half of 15- to 24-year-olds, accounting for 15 percent of the U.K. population, are regular users, but among the fifth of the U.K. population over the age of 64, just one person in 25 is online. When one measures by social class, education level, employment status, or employer size, alarming disparities are apparent.
Of even greater concern, however, is that as the online revolution runs its course, the divide looks set to grow worse. New users are currently joining the U.K.'s online population at the rate of 4 million (or 8 percent of the population) each year, and the growth rate likely will be sustained over the coming years. Powerful service propositions such as free e-mail accounts are driving the current expansion of the market. Low-cost access terminals, such as TV set-top boxes and Web phones, are emerging, and digital interactive TV will add new Internet users, as powerful corporate players such as British Sky Broadcasting Group PLC (BSkyB) and OnDigital PLC expand their offerings. Wireless Internet access also will usher in new users and applications starting later this year. New telecommunications services will enable "always-on" connectivity at affordable prices. With these market forces, the penetration rate in the U.K. should pass 60 percent "naturally," possibly as soon as 2003.
However, far from bridging the emerging inequality, the wave of growth is likely to exacerbate it, leaving a group of over 20 million citizens excluded from the fruits of the knowledge economy. (See Exhibit 3, below.)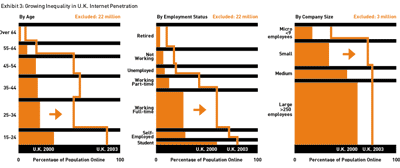 Some jobs, roles, or lifestyles do not need to and never will embrace the Internet. Downloading music from Web sites or joining chat groups to discuss the latest snowboard design is not for everyone. There is clearly no case for pushing uninterested citizens toward something they neither want nor need. Nonetheless, the issue of exclusion is problematic, because the online revolution will affect all members of society:
Employers are beginning to see Internet skills as a key qualifier when selecting candidates for interviews, and even — at the aggregate level — when deciding where to locate new facilities.
Companies under pressure to reduce costs in the face of competition from dot-coms will move customer-service functions online (although some customers have yet to master the automated voice response systems on telephone hotlines).
In education, homework assignments are likely to move increasingly to the Internet. Students with access to Web skills and a home PC will have major advantages over those who do not.
Government services from tax payments to job placements will increasingly be offered online.
As the marketplace stimulates opportunity, these conditions suggest government must step forward to ensure that opportunities are evenly distributed. That is why we believe government should take the lead in ensuring Internet access to every citizen, or face a widening gap between the well-to-do and the underserved in income, opportunity, and access to government services.
Government's Decisive Role
In countries with high Internet-usage rates and a more mature high-tech sector, governments are active in developing policy and fostering activity in this field. Indeed, each of the world's leading online nations is characterized by a government that has not been content simply to leave the emergence of a knowledge economy to market forces.
Consider the United States, the world's leading online economy. It has the highest absolute number and percentage of people online; the most intensive users, measured in terms of both the hours and the dollars they spend online; and three-quarters of the world's e-commerce. While the vibrant U.S. private sector garners headlines, the profound role of the U.S. government is often overlooked.
As far back as 1994, the Clinton administration committed to connecting every classroom, library, community center, clinic, and hospital to a national "information superhighway" by 2000. Vice President Al Gore's early appointment as "E-minister" also signalled the Clinton administration's dedication to playing an active role in fostering the expansion of the Internet. This was the first government to officially identify the problem of a digital divide, and it has actively measured and addressed it since 1996.