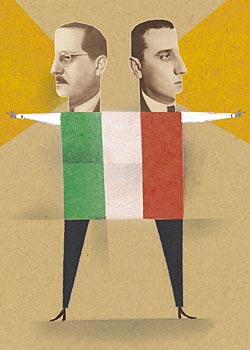 Dave Plunkert
When Italians want to watch AC Milan, one of the country's best professional soccer clubs, they tune in to the channel of Mediaset, a major TV network. It's only natural that the team appears on Mediaset: both are owned by Silvio Berlusconi — media magnate, sportsman, and politician. While AC Milan was scoring goals on Mediaset in the spring of 2000, Mr. Berlusconi had the pleasure of watching Forza Italia, the conservative political party he created, defeat the center-left coalition of Prime Minister Massimo D'Alema in regional elections. The victory was an early indication that Mr. Berlusconi had an excellent chance of being elected prime minister the following year. Indeed, as events unfolded last winter, all signs indicated that by spring 2001, Mr. Berlusconi would be prime minister. (As
s+b
went to press, the election was scheduled for May 13.)
Mr. Berlusconi held that position in the mid-1990s until the collapse of his coalition led him to resign. He was prime minister during a period when Italy made laudable strides toward modernizing its economy, as the government reduced budget deficits and inflation, eliminated trade deficits, and shrank the public sector through privatization.
But much work remained, and prior to the 2001 vote, Mr. Berlusconi believed he could finish the job of modernizing Italy before the pincers of globalization and Italy's aging population crushed its economy and social systems. His agenda focused on addressing rigid labor markets, high structural unemployment, large and bureaucratic government, and the high public spending and taxation that choked off productivity and investment, as well as the immense regional differences that separated northern from southern regions. Mr. Berlusconi realized that Italy's capital markets remained underdeveloped and its banking system, dated. Heavy industry was still struggling to adjust, after decades of reliance on the state. And small business, in some ways Italy's sparkling competitive advantage, badly needed to modernize its undercapitalized, family-owned structure.
Mr. Berlusconi believed that a strong center-right coalition could lead Italy through the next stage of European integration. Referring to Polo per le Liberta, his Freedom Pole coalition, which includes Forza Italia, he affirmed in an interview in Rome, "We need a government of Polo that, on the foundation of its own liberal principles, puts into effect in Italy the recipes adopted by Reagan in the U.S., by Thatcher in the United Kingdom, and by Anzar in Spain."
Mr. Berlusconi is seeking to resolve a tension between the private sector and the state that roils economies across Europe. The struggle to combine social security with economic dynamism exists from Spain to Germany to points beyond. His questions — will these reforms be politically feasible? And will they be enough to stimulate the growth of the national economy? — concern reformers globally. If he is elected and then manages to resolve the public-private conflict, Mr. Berlusconi will set an example for Italy's neighbors and other countries that want to reshape their economies.
Like Italy, other countries must adjust or find themselves lagging far behind the leaders of the global economy. There is no "third way" that can maintain both affluent lifestyles and an equitable welfare state without making rigorous changes in labor markets, financial systems, and competitiveness.
Can Italy make the hard choices that have paid off elsewhere with economic growth? That depends on the influence of factors that have led Italy to this historic point (see "Nine Challenges to Italy's Economic Future," at the end of this article) and whether the new prime minister can garner political support for the next phase of the so-called Italian miracle. Most critically, it depends on the resolve of the Italian people to overturn many facets of their comfortable — but unsustainable — society. This miracle will take more than prayers.