That doesn't mean that customization, bundling, and one-stop shopping can't benefit both the customer and the supplier. They can and do — but they stop short of creating new, lasting benefits from the transformed dynamics of the customer–supplier relationship, a value-based alliance we prefer to call "customer symbiosis." Like symbiotic relationships found in nature, customer symbiosis must be a true partnership, built on transferring a supplier's skills to a customer lacking them. It must be founded on the belief that sharing knowledge and information about business processes and product design can be advantageous to both the supplier and customer. And the parties must share the risk and potential rewards of every transaction related to the collaboration.
Symbiosis Takes Two
The importance of symbiosis has risen from new competitive stresses virtually all companies are facing in globalizing industries, which have plunged them into a dizzying "specialization spiral" that almost mandates a new operating model. Firms are under increasing pressure to differentiate themselves by focusing on core activities where they can apply their superior knowledge to customer needs. This is compelling them to eliminate noncore activities. After doing so, however, a company retains only a limited ability to master the integration of disparate products and services from multiple vendors. Yet dependence on a vendor to do the integration is risky, unless the vendor assumes some of the risk for the performance of the integrated solution.
For an illustration, consider the low returns companies have received from their massive investments in enterprise resource planning systems and customer relationship management systems, which are typically designed and implemented by systems integrators compensated on a time and materials basis. Significant benefits generally are achieved only when customers ask vendors also to share the risk of attaining real results from the new system. That compels the systems integrator and the client to enter into a more collaborative relationship, in which knowledge and skills are transferred across the boundaries that usually separate them, and the line between the information technology products and the services that support their use are erased.
For suppliers, customer symbiosis is a powerful strategy that creates top- and bottom-line growth, deepens relationships with important customers, and enhances customer loyalty. Customer symbiosis can also be a transformative tactic internally, goading a supplier's culture toward customer-centrism. This was exactly the revolution instigated by Louis V. Gerstner Jr. when he became chairman and chief executive of IBM and tried, as he told the New York Times earlier this year, to "look at technology through the eyes of the customer."
It was "an incredible bomb in the company," Mr. Gerstner said. "Here was a part of IBM that was going to work closely with Oracle, Sun Microsystems and, God forbid, Microsoft." Today IBM Global Services is the company's biggest business.
A recent survey of the Fortune 1000 companies, jointly conducted by Booz Allen Hamilton and the Kellogg School of Management, provides strong evidence that customer-symbiosis strategies create value for shareholders. Respondents were grouped into quartiles based on their total return to shareholders from 1996 to 2000. During that five-year period, the top quartile generated a return greater than 22 percent; the bottom quartile's return was less than 2 percent. By a large margin, top-quartile companies say they are outpacing their bottom-quartile peers in all key areas of customer collaboration: partnering with customers in product development; extending the longevity of their relationships with customers; and placing more focus on meeting customer expectations. (See "Focus: The Value of Relationship Capital.")
Focus: The Value of Relationship Capital
This study was undertaken by Booz Allen Hamilton Senior Vice President Gary Neilson ([email protected]) and Principal David Kletter ([email protected]), and Ranjay Gulati
([email protected]), the Michael L. Nemmers Distinguished Professor of Technology and E-commerce at the Kellogg School of Management at Northwestern University.
A Booz Allen Hamilton survey, conducted with Northwestern University's Kellogg School of Management in 2001, provides persuasive evidence that companies investing in "relational assets" (defined as the firm's network of relationships with its customers and suppliers, alliance partners, and employees) outperform others financially. No matter the context, trust-based, mutually satisfying long-term relationships between people have enormous value.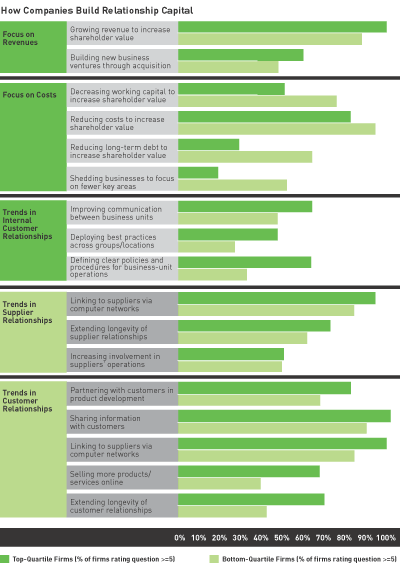 One hundred thirteen CEOs and senior executives from Fortune 1000 companies across a range of industries responded to 115 questions about the organizational challenges and imperatives companies perceived in their markets. Using a scale of 1 to 7 (with 1=decreasing, 4=no change, and 7=increasing), one part of the survey asked respondents to describe the extent to which they are engaged in — or are intending to pursue — practices affecting customer relationships, supplier relationships, and internal customer relationships (i.e., employees). To analyze the results of the survey, companies were broken into four groups based on their return to investors from 1996 to 2000.
During that five-year period, the top-quartile performers' return was greater than 22 percent; market capitalization rose from $190.71 million to $911.33 million. In sharp contrast, the bottom-quartile group's increase in market cap was below 2 percent, rising from $64.65 million to $65.55 million. (See "Five-Year Change in Market Capitalization," below.)
Significantly, top-quartile companies are outpacing their bottom-quartile competitors by a large margin in their commitments to building relationship capital. Compare the differences in several key areas of customer collaboration:
Partnering with customers in product development (78 percent of top-quartile respondents gave a rating of 5 or greater versus 63 percent of bottom-quartile respondents)
Extending the longevity of their relationships with customers (66 percent versus 43 percent)
Placing more focus on meeting customer expectations (91 percent versus 77 percent)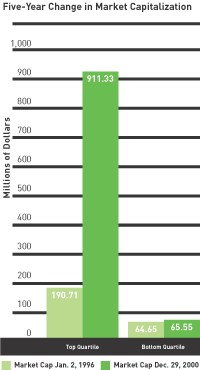 There were also substantial differences between top- and bottom-quartile companies in their approaches to internal relationship building. For example, 47 percent of the best performers were increasing their efforts to deploy best practices across business units and geographic locations versus 27 percent of the lowest performers. And the best companies appear to be working harder to increase and improve communication with suppliers and involve them more deeply in operations.
The winning companies are also more focused on growing revenues than on reducing costs. Whereas 59 percent of bottom-quartile companies say they are reducing long-term debt to increase shareholder value, 29 percent of top-quartile companies emphasize this strategy. Top performers are taking more risks to grow through acquisitions, while lower-performing companies seem more inclined to shed businesses to focus on key areas.