This article was written with Pat Houston, Anne Chung, Silas Byrne, Martha Turner, and Anand Devendran.
Amazon.com's launch in July 1995 ushered in an era with a fundamentally new value proposition to the consumer: easy access to convenient ordering with seemingly infinite selection. Rather than dropping by the local Barnes & Noble superstore and physically sifting through the 150,000 titles, Amazon's online shopper peruses more than four million titles from a personal computer. Amazon also simplifies the selection process through its search engines and databases loaded with information on millions of consumers. Over the past few years, a host of "category killers" replicated Amazon's "limitless shelf space" model in categories from music, to toys, to home furnishings — while Amazon, in turn, extended to such categories, and others, as well.
Unfortunately, the online advantage is undermined by a benefit only bricks-and-mortar retailers can offer: the ability to walk out of a local store with product in hand. As a result, a new breed of Internet service has emerged: retailers, such as Webvan, Kozmo.com, Urbanfetch, and Pink Dot, that offer same-day delivery. These new e-tailers have staked out "the last mile" delivery to consumers as their basis of competition. By combining the convenience of online ordering with nearly "instant gratification," they offer a new — and potentially superior — value proposition. No one doubts that competition will be fierce. As George Shaheen, CEO of Webvan Group Inc., puts it, "One or two companies will legitimately earn the right to cross into a person's home. We intend to be one of those. I don't believe there will be a multiplicity of companies doing this successfully." (See "Can Webvan and HomeGrocer Deliver Together?" at the end of this article.)
Unlike Mr. Shaheen, we believe the last mile may lead to the gallows rather than to the promised land. Our analysis of the race for Internet-ordering home-delivery services uncovered four fundamental challenges: limited online sales potential; high cost of delivery; a selection-variety trade-off; and existing, entrenched competition.
Before presenting our supporting evidence, we will first briefly profile the new dot-com competitors for the last mile. (Save this scorecard; the game may be a no-hitter.)
Overview of the Players
Most of the major e-tailers offering same-day delivery tend to focus on a mix of two broad product categories, immediate gratification/impulse items (e.g., videos, music, magazines, snacks) and routine necessities like grocery and household items, for which many consumers seek to minimize shopping time and effort. (See Exhibit 1.) All offer thousands of items, but order sizes vary dramatically. Not surprisingly, the companies focused on instant gratification/impulse items tend to have the smallest orders.
Exhibit 1: Local-Deliverer Overviews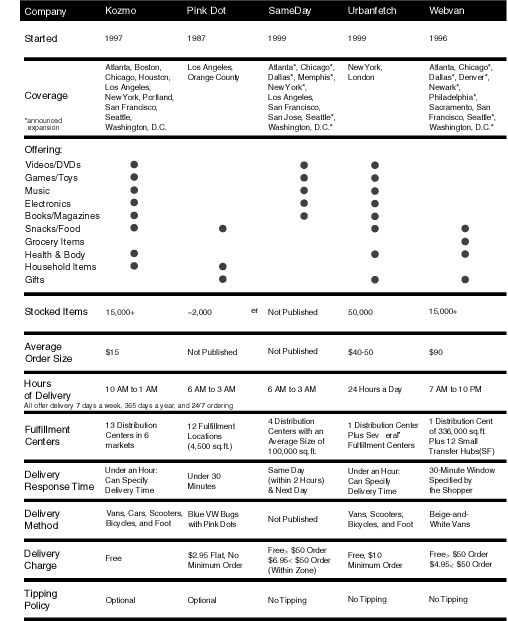 All offer extended delivery hours. Distribution/fulfillment centers range from simple 4,500-square-foot spaces filled with rack shelving, to highly automated multimillion dollar 300,000-square-foot facilities. Delivery vehicles range from bikes, to scooters, to small cars, to vans — often sporting striking colors and images to market the brand. Though most offer free delivery, some price their offerings to discourage small orders. Also, to ensure that consumers receive truly free delivery, some, at least for the time being, discourage tipping.
Though each company offers a slightly different business proposition, all offer the convenience of online ordering and same-day delivery, thus addressing the time-lag problem encountered in the category-killer e-tailing model pioneered by Amazon.com. These local deliverers hope that gaining control of the last mile will ensure success. We're not so sure — for a variety of reasons.
Limited Online Sales
Given the well-publicized reports about the explosive growth of online shopping, our assertion of limited sales may seem unbelievable. We draw this conclusion by examining how online sales should affect the volume of home-delivery business.