The flaw, we believe, has been with the practice of outsourcing, not the theory. A high-tech supply chain that relies heavily on outsourcing can be successful, but not if partners approach it with the wrong assumptions. Even for those companies whose participation in technology is minimal, outsourcing has the potential to be a major operational landmine. Especially in industries where product life cycles are growing shorter — set in an economy where volatility increasingly is the norm — a clear understanding of performance expectations, capabilities, and risks will separate the winners from the losers.
How Did We Get Here?
For high-tech supply chains, outsourcing was the panacea of the '90s. Traditional vertically integrated electronics manufacturers, which had been managing products all the way from design and development through manufacturing and distribution, could slash their balance sheets by placing the low-margin operations with hungry contract manufacturers. For companies as varied as Apple, Nortel Networks Inc., and the Nokia Corporation, manufacturing was no longer where they added value; instead, they got paid for understanding customer needs, design, and distribution. Moreover, the speed with which product demand varied stressed their ability to scale up or down in response. As a result, there were tremendous pressures to get these less-profitable manufacturing assets off the balance sheet.
The contract equipment manufacturers were willing to buy these assets, and even to take short-term losses, if in turn they could count on seizing greater market share in the long term through industry consolidation. The CEMs believed they could make these operations profitable because manufacturing was their core competency, and because consolidation would allow greater purchasing power, increased economies of scale, and less exposure to market variability.
"Higher asset utilization!" the outsourcers proclaimed. "Improved scale and scalability," they promised. Securities analysts readily accepted these claims, running up the valuations of eight major CEMs by 2,600 percent over the second half of the past decade.
Fast forward to today. High-tech has been rocked by a series of earnings announcements that have cut the Nasdaq index by as much as 68 percent from its March 2000 peak. "Growth hasn't materialized!" the same voices shout. "The supply chain has been clogged with gobs of capacity and inventory," they confess. Participants in this great experiment of outsourcing have been hit with lower total earnings and with lower margins.
This wasn't supposed to happen. After all, hadn't the value chain already rid itself of the excesses and inefficiencies of fat production?
Not quite. The problem encountered by companies like Cisco, Sony, Philips, and Compaq in the late 1990s was that their in-house production capabilities — those undifferentiated, unsexy parts of their business — were increasingly no longer part of their competitive edge. It was difficult to keep the technology current. And those functions were tough to scale to meet the demands of hit-driven businesses. Asset- and people-intense parts of the business, notably manufacturing, were viewed as a distraction from the high-value parts — product innovation, marketing, and customer understanding. When it came time for businesses to choose, high value won. Companies picked up the mantra of customer focus and concentrated on getting a wider array of products to the market. Getting to market first with a hit was far more important than simply lowering production costs.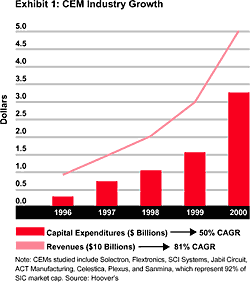 The solution was outsourcing — farm out all those prickly nightmares. Outsourcing was greeted as more than just a strategy; it was hailed as a cure-all for whatever ailed the technology sector. The theory was that manufacturing specialists — companies like Solectron, Sanmina, Celestica, Flextronics, and Jabil Circuit — could bring greater focus and expertise to projects, could develop procurement and risk efficiencies better than OEMs, and could lead in innovation if they were encouraged to do so.