We studied eight major CEMs — Solectron, Flextronics, SCI Systems, Jabil Circuit, Celestica, ACT Manufacturing, Plexus, and Sanmina — that together represent 92 percent of the Standard Industrial Classification market cap. From 1996 to 2000, capital expenditures grew 11-fold, revenues increased almost 400 percent (see Exhibit 1), and market capitalization experienced an exhilarating compound annual growth rate of 87 percent. The Solectron Corporation itself is a lesson in CEM expansion. (See Exhibit 2.) In 1997, it extended its presence with just one new acquisition. In 1998, it picked up another five; in 1999, 10; and, in 2000, it surpassed the total number of acquisitions in the previous three years with 27.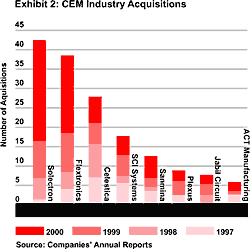 In deal after deal after deal, the partnership announcements were the stuff of headlines: In 1998, Silicon Graphics Inc. signed a five-year supply deal with Celestica Inc. The following year, SCI Systems Inc. entered into outsourcing arrangements with the NEC Computer, Marconi, and Dell Computer corporations. In 2000, the five-year, $30 billion agreement between Motorola Inc. and the Flextronics Corporation made a four-year, $10 billion pact between Nortel and Selectron seem slight by comparison. Wall Street followed the deal-making with its own kind of gushing praise, rewarding the CEMs and OEMs with bigger market caps while touting their ability to:
• Deliver Better Economics. By consolidating production volumes from multiple customers, CEMs could fill their factories and minimize downtime with a portfolio of products across a portfolio of lines. By filling the lines, they spread their overhead thinner. And they weren't exposed to gaps caused by the ebb and flow of a collection of hit-driven businesses. By aggregating component volume from multiple customers, CEMs could buy parts in bulk and at lower costs.
• Improve Scalability. With access to "plug-and-play" assembly lines, the CEMs could establish standard practices that would enable them to turn on a dime to start or stop product manufacturing. Because they had plenty of materials on hand, they would also be able to react better to changes in macro demand.
• Reduce Inventory. Contract manufacturers could pool the inventories of multiple customers on similar items — components and boxes, to name two — and reduce overall inventory levels and costs while maintaining effective coverage against changes in demand.
• Create Distribution Benefits. When CEMs possessed the right geographic footprint, shipping the finished good directly to end-users was a viable option.
• Sharpen Focus. Outsourcing the essentially commoditized manufacturing functions would allow OEMs to concentrate on their core capabilities — innovation and owning the customer. The CEMs' greater experience in manufacturing would yield quicker ramp-up of new products, smoother production processes, and speedier solutions to unexpected problems.
CEMs enthusiastically tooled up to accommodate outsourcing. They grew in scale — Solectron alone acquired 53 facilities and production contracts over three years — and increased their scope of work. To become one-stop shops, CEMs moved from simple board-stuffing to complete assembly of sophisticated components, as well as such higher-value activities as testing and aftermarket support. By providing more services, they set out to become a more integral part of the manufacturing process while creating stickier customer relationships. Indeed, for the next several years, the fates of Nortel and Solectron are inextricably bound together by a supply contract that all but mandates a seamless partnership.
The CEM industry's total market was estimated at $120 billion in 1999, or 15 percent of the $800 billion potential market for contract equipment manufacturing identified by the high-tech market research firms IDC and Forrester Research. Analysts predicted that CEMs would capture more than 40 percent of this outsourcing market (primarily computing and communications hardware products) by 2004.