But as customer demand increased — as much as 50 percent or more year on year — Cisco's suppliers struggled to keep up. Cisco did a better job than most managing through unpredictable shortages to maintain a high level of customer commitment. Nonetheless, the company was hit by parts shortages that slowed delivery, and by October 2000 it faced a $3.8 billion backlog in customer orders. The shortages limited its ability to satisfy customer demand as the market was peaking, ultimately limiting the company's profitability.
It turns out that there was a more sinister side to that customer commitment. Cisco's focus largely blinded it to the possibility that demand might not continue to materialize. When the market dried up, Cisco found itself saddled with the extra capacity that it had put in place to meet potential demand. The resulting $2.25 billion overhang reflected the company's outstanding contracts with CEMs as well as a measure of all the inventory it needed to write down.
Like Lucy and Ethel in the chocolate factory, the company was left with a glut of product and nowhere to put it. Unfortunately, it's just about impossible to hold a fire sale in high tech. Technology will go through two or three generations of advancement before the customers — large institutions steering around gigabytes of data — will again be ready to procure product. So although some common components like flash memory might be mined for other uses, most of the value in the core chip sets, assembly integration, and tests is lost.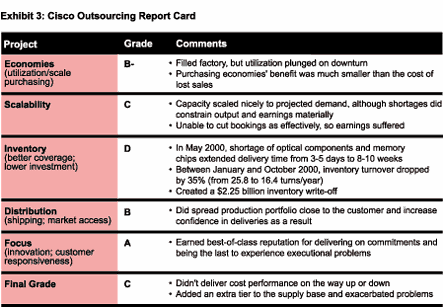 How well did outsourcing work in delivering the promised benefits in Cisco's case? The report card we'd give to the company and its contractors provides some perspective. (See Exhibit 3.) Cisco overcommitted to inventory and capacity as the market was taking off and forecasts were rosy. As the forecasts vaporized, the company was unable to rid itself of the excesses. It couldn't fix its virtual production system with inventory, and it couldn't take out capacity when it most needed to. The poor utilization of assets drove the company to announce its first-ever quarterly loss last spring. Lest anyone miss the magnitude of the miscommunication in all the murk, Cisco had to concede in its April 29, 2001 quarterly earnings announcement that it was unsure how large its total write-down was — it was within a $300 million range.
Cisco is just one of several technology enterprises that have struggled with outsourcing.
In late 1999, Compaq decided it needed to revive its lagging commercial PC sales. The company announced a hot new product line: the Ipaq series of handheld devices, with full-color screens, multimedia capabilities, and unmatched portability.
The Pocket PC, introduced under a direct sales/inventory-less strategy, quickly became the company's biggest hit. Demand for the device outpaced supply 25 times, and Compaq executives were enthusiastic about its market potential. Michael Winkler, executive vice president of Compaq's Global Business Units, told Fortune last March "…If you take the units, accessories, and some of the services that go along with it, it's a larger market in 2005 than the traditional PC market."
After the 2000 second quarter, however, demand for handheld devices in general was outpacing supply, and most companies, including Compaq, Palm, IBM, and Ericsson, were losing customers and orders. Compaq's CEO, Michael Capellas, captured the industry's sentiments: "…The supply problems have had more to do with unexpected demand. We expected sales of about 7,000 per month but are a lot closer to 100,000." A shortage of LCDs, and basic components like capacitors, resistors, and flash memory, had crippled the entire handheld devices market. Securities analysts estimated that Palm's revenues, for example, might have been 10 to 40 percent higher if it had been able to get its hands on as many LCDs as it needed. Compaq, whose inventory-less strategy led it to outsource manufacturing of the handheld to the Taiwan-based High Tech Computer Corporation, was hit just as hard. "We have unfulfilled orders for 600,000 to 700,000 devices," a Compaq vice president told Bloomberg News. Any time he wanted a reminder of that shortage, that vice president could log on to auctions at eBay and Amazon.com, where Pocket PCs were selling for $700 to $800, well above their $499 retail price.