Production and assembly processes have become much more stable, and a variety of tools have emerged to handle the day-to-day interaction around the supply chain. OEMs need to pick and choose among these capabilities carefully in order to create an integrated supply web. It's not a simple value chain anymore. OEMs have to satisfy a range of possible demand profiles with a portfolio of customizable capacity. This much we have learned: Although there are any number of options to build with (different plants, product flows, configurations), the OEMs can't predict with any accuracy the specifications of what they will need.
While designing the new supply web, they need to keep this uncertainty in mind. The web needs to be adaptive so the OEMs can create global, integrated, dynamic networks of suppliers that find the lowest risk and cost for any given situation. OEMs need access to — and the ability to turn off — big chunks of production more quickly than ever contemplated in order to capture profitability.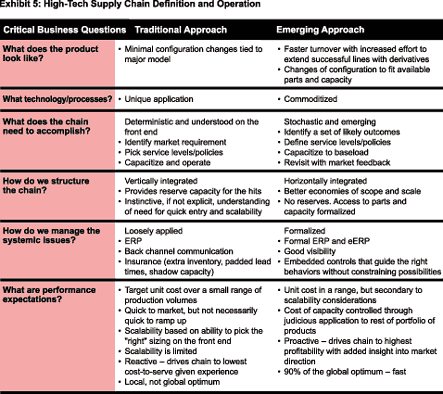 Although the process for creating and producing a single electronic product has become fairly routine, no OEM has mastered the coordination of a web that provides easy, cost-effective access to all those potential outcomes. In order to do this, OEMs must recognize the differences between the old supply chain and the new web. (See Exhibit 5.) From these points of difference emerge some guidelines OEMs can use to reinvent outsourcing as a viable model. Companies that master them will turn their big cost and speed advantages into dominance of their competition. These guidelines include:
• Active Capacity Management. Think of capacity as a portfolio, and manage it in such a way that you maintain capacity for the baseload as well as the surge when (optimistically speaking) your product takes off.
• Progressive Supplier Relationships. Build relationships with suppliers that allow you flexibility over time. We call this rolling commitment — reserving aggregate capacity in the long term and then specifying exactly what that reserved capacity will be used for closer to the actual production date.
• Coordinated Production Planning. Use a "federated" approach to planning the product and linking the production system; an approach that allows for alternatives instead of insisting on precise commitment.
• Flexible Product Configuration. Identify some room in the configuration to allow for variations in availability. There are always trade-offs in the design that you can make to help manage around parts shortages.
• Iterative Learning. View the aligning of the supply web for each particular product as a "design, launch, and learn" effort. This is a completely new approach — you don't just launch, you design and adapt your supply web over time. You can't afford to paralyze yourself while seeking the perfect solution. Reducing the time required for the alignment is the key to profitability. It's better to start working and correct as you go along than to wait for the perfection and miss the opportunity entirely.
Companies today are confronted by a new reality. Gone are the days when owning and controlling every aspect of the business was desirable, or even possible. Outsourcing is here to stay. But just as traditional manufacturers stumble when their processes fail to scale, outsourced enterprises fail if their relationships cannot scale effectively on the upside and the down. For outsourcing to work, OEMs and CEMs must look beyond the deal. They need to step back and reevaluate their relationship, realign the processes, and evolve as the market moves. Only with adequate attention to both the why and the how will outsourcing deliver on its promise.

Also contributing to this article were Booz-Allen's Keith Oliver, senior vice president ([email protected]), Rosemarie Rivera, senior associate ([email protected]), Nanette McFerran, associate ([email protected]), Koichi Hiura, associate ([email protected]), Jean-Philippe Kouakou-Zebouah, associate ([email protected]), and Angela Quintero, senior consultant ([email protected]).