Starting Point for Strategists
While Welch provides initiatives you can use, in The Art of Profitability (Warner Books, 2002), consultant Adrian Slywotzky offers 23 profit templates that can provide the skeleton for a business strategy — just as the battle of Cannae provided the skeleton that Hoffmann and Ludendorff fleshed out into the strategy for Tannenberg.
Strategists will recognize Slywotzky's profit patterns — familiar concepts, new and old, including solutions, de facto standards, blockbusters, life cycle, relative market share, installed base profits, and even the experience curve. But familiarity doesn't detract from The Art of Profitability's value. Abstracted from the successful experience of many companies, the profit templates not only facilitate thinking "outside the box," but also ground strategy in fundamental economics that have proven to yield superior profitability in other industries. Although 23 patterns don't exhaust the universe of all possible strategies, they're sufficiently comprehensive that they provide a useful checklist at the start of strategy formulation. One of our clients begins its strategy process by evaluating which three or four of the profit patterns might work in a business unit, fleshes out each of these patterns into a strategy, and then chooses among them.
We also liked the style and structure of The Art of Profitability. Slywotzky has adopted a novelistic approach to describing the development and application of corporate strategy. Telling an even simpler story than Eliyahu Goldratt's The Goal: A Process of Ongoing Improvement (North River Press, 1992), he eavesdrops on the conversation between a strategy guru and a midlevel manager, drawing us into a dialogue about how companies make money. The format is surprisingly effective: People embrace stories, and economic logic communicated through dialogue is more engaging than the traditional didactic approach. The technique also enables Slywotzky to sidestep one of the perennial problems faced by consultant authors — how to cite examples of less successful companies without angering past or prospective clients — by using fictionalized stories of companies.
The Art of Profitability is weakest in helping managers move beyond the profit-pattern skeleton to flesh out real strategies. It's not that the issue is ignored; the guru and the manager discuss the challenge of creating and implementing strategies several times. However, in contrast to the deep insights about profit skeletons, neither character understands mobilization of organizations around real strategies. As the guru concludes, "It's a bit of a mystery."
Mystery or not, strategy development receives an unusual and successful rendering in this book. Although the profit templates first appeared in 1999 in Profit Patterns (Times Business/Random House), written by Slywotzky, David J. Morrison, et al., Art has replaced Patterns on our bookshelf.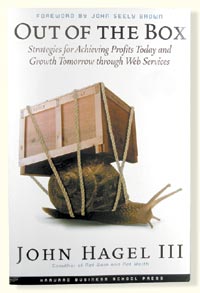 Both Welch and Slywotzky assert that digitization offers exciting opportunities, but John Hagel III, in Out of the Box: Strategies for Achieving Profits Today and Growth Tomorrow through Web Services (Harvard Business School Press, 2002), provides a much better — and more actionable — definition of its opportunities and challenges. Recent academic studies confirm what every manager knows from experience: Although information technology is an essential enabler of major changes in strategy, it slows implementation, requires major investment, and often forces compromises in execution. Hagel, former chief strategy officer of 12 Entrepreneuring Inc., believes that Web service technologies and distributed service architectures — such as the standards-based utilities that permit simple, flexible connections of heterogeneous platforms and businesses — will enable us to break out of the "box" of inflexible infrastructure and software.
Dell illustrates the power of the Web services approach. The company relies on third-party logistics companies (called "vendor-managed hubs") to order and maintain inventory from its vast array of component suppliers. Each component supplier, vendor-managed hub, and assembly plant has its own set of legacy systems. To reduce inventory at its assembly plants, Dell shifted from a weekly demand forecast sent to its vendors to a new manufacturing schedule every two hours, published as a Web service on Dell's extranet. The vendor-managed hubs automatically respond to the updated schedule — picking, packing, shipping, and delivering the required parts to the designated building within 90 minutes — reducing Dell's inventory at the plants from 26 to 30 hours of production to three to five hours, while also freeing space at the plants for additional production lines. Dell is now deploying a Web service application to reduce inventory at the vendor-managed hubs: an extranet-based event-management system that automatically generates inquiries and confirmations of shipments from vendors to the hubs.