Most business biographies are boring, telling tales of past careers and deals done long ago. Few let us into the real secrets of the life of their subject or the keys to their success. Not The Merchant of Prato: Francesco di Marco Datini, 1335–1410, by Iris Origo (Alfred A. Knopf Inc., 1957; David R. Godine Inc., 2002), although it is about the life of someone whom few, if any, will have heard of.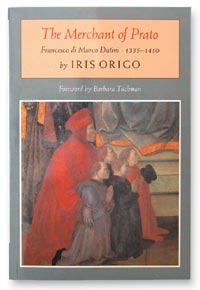 That someone, Francesco di Marco Datini, died nearly 600 years ago, in Prato, near Florence in Italy. You can still see his statue in the main square there, justifiably so, since it was to him that the little town of Prato owed the foundation of her riches.
He would, today, be just another name, a rich businessman of the early Renaissance, were it not for one fact — he kept all the letters he had ever written, to his managers, his wife, and his best friends, along with all his business files, and he left them in his house.
Four hundred and sixty years later, a few learned citizens of Prato found them there, in dusty sacks hidden underneath the stairs. There were some 500 ledgers and account books, about 300 deeds of partnership, insurance policies, bills of exchange, and checks, and, most intriguing of all, some 140,000 letters, of which 11,000 belonged to his personal and private correspondence with family and friends and the rest, in 503 files, to his business.
Historic Treasures
It was a treasure trove, and Iris Origo, an Anglo-American social historian married to an Italian aristocrat, plunged in and became immersed in it. Few biographers in this new age of the telephone and e-mail will have such riches to draw on, and few businesspeople would, today, want to preserve their private, and often indiscreet, conversations with their wife or husband and their close friends, even if they could.
Francesco Datini, however, wrote to his wife on most days that he was away from her, which was much of the time, and kept his letters and her replies. Furthermore, in order to maintain control of his international business, he would write every week to the managers of each of his branches. Veritable Bibles, he called these letters; "and I always say I will be brief but then I write a whole psalter!" What we do today by e-mail and telephone, he had to do by personal mail.
Francesco Datini was a global merchant, trading mainly in wool, with branch offices all over Europe, some run by partners, others by salaried managers. He was also one of the earliest merchant bankers, specializing in bills of exchange that financed most of the trade in those times. He was using double-entry bookkeeping 100 years before it was supposedly invented by an Italian monk, and he ended up as one of the richest men of his day.
Breeding Trust
His papers offer us a privileged insight into the life and times of a successful self-made businessman of the 14th century. That would be fascinating enough, but what is more intriguing still is to see how closely Datini's management and personal dilemmas resemble our modern concerns.
Trust, then as now, was critical, when you were managing by remote control. Picking the right person in the first place avoided the need for endless detailed instructions and reviews. Datini didn't always get it right. Only one manager, whom he called a saint, did he trust completely throughout his career. Others
needed constant reminders, although these were always written by him more in the tone of a scolding parent than of a supervisor, which removed much of the sting but left the bite. One letter starts: "I see that you only read my letters once, and reply heedlessly … and then sit by the fire dreaming of the great profits you will make!" To another manager he wrote, "You cannot see a crow in a bowlful of milk."