In the United States, it's Sarbanes-Oxley. In Japan, it's the changing Commercial Code. In Germany, it's the debate over supervisory board–management board relationships. Around the world, it's the challenge of growth, the stress of cost reduction, and the mysteries of organizational effectiveness. Connect the dots — adding the data on rising chief executive insecurity from Booz Allen Hamilton's 2002 CEO Succession Study (Click Here) — and the picture is not pretty: Rarely has there been a more difficult time to lead.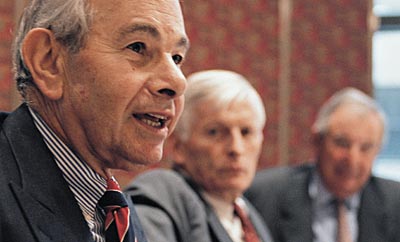 How will companies find their way out of the current economic slump? What new "best practices" in management and strategy are emerging? How, under the new rules of engagement, should CEOs and boards work together to improve corporate performance and their stakeholders' lives? To attempt to answer, strategy+business convened a roundtable of notable thought leaders in the areas of organization and leadership and invited them to debate issues that have surfaced from recent research on CEO succession. Roundtable participants, who had access to preliminary results from the 2002 Booz Allen study, included:
• Rakesh Khurana, an assistant professor of business administration at the Harvard Business School, who teaches leadership and organizational behavior in the MBA program, and contributes frequently to the Harvard Business Review, MIT Sloan Management Review, and other publications on corporate governance. He is the author of Searching for a Corporate Savior: The Irrational Quest for Charismatic CEOs (Princeton University Press, 2002), a study of the chief executive labor market.
• Thomas J. Neff, the U.S. chairman of executive search consultancy Spencer Stuart. Mr. Neff's consulting practice focuses on CEO, board, and senior executive recruiting and consulting. The coauthor of Lessons from the Top: The Search for America's Best Business Leaders (Doubleday Currency, 1999), he serves on the boards of directors of ACE Limited, Exult Inc., and the Lord Abbett mutual funds.
• Bruce Pasternack, a Booz Allen senior vice president, founding partner of the firm's Organization and Change Leadership Practice, coauthor of The Centerless Corporation: A New Model for Transforming Your Organization for Growth and Prosperity (Simon & Schuster, 1998), and a frequent contributor to strategy+business. In 2000, Mr. Pasternack led a worldwide study on organizational leadership and renewal for the World Economic Forum.
• Didier Pineau-Valencienne, from 1981 to 1999 the chairman and chief executive officer of Schneider Electric SA of France, one of the world's leading manufacturers of electrical-distribution, automation, and industrial control equipment. Currently the chairman of PEP Private Equity Partners, Mr. Pineau-Valencienne serves on the boards of AXA Financial Inc., AON, Wendel Investments, and other companies, and on the board of overseers of Dartmouth College's Tuck School of Business.
• Kenneth Roman, the former chairman and chief executive of the global marketing communications firm Ogilvy & Mather Worldwide and its parent company, the Ogilvy Group, where, in a 26-year career, he oversaw activities in 52 countries. Mr. Roman, the coauthor of How to Advertise (St. Martin's Press, 1975) and Writing That Works (HarperCollins, 2002), has served on a dozen corporate boards, including those of the Compaq Computer Corporation, the Brunswick Corporation, and Gartner Inc.
The colloquy was moderated by s+b Editor-in-Chief Randall Rothenberg and took place over lunch at Club 101, a private facility in New York City.
S+B: Our research is showing that about 10 percent of CEOs in the world's largest companies are replaced each year. This seems consistent across all geographies. Are CEOs more imperiled than they used to be?