Looking Inside
Although these barriers have hindered B2C and B2B adoption, they do not appear to be impeding B2E implementation. Our study, which included companies in the U.S. and Europe, revealed that a significant majority (69 percent) of firms are focusing their m-business interests on B2E applications. (See Exhibit 1.) A smaller proportion of firms (37 percent) have invested in B2C applications. An even smaller proportion of firms (19 percent) are using mobile solutions in their B2B interactions. The B2E applications receiving the most emphasis include mobile office (communications and access to corporate information), customer care (contract and transaction management), and operational productivity (asset/fleet management and inventory management). Some companies are also focusing on mobilizing supply chains across organizations.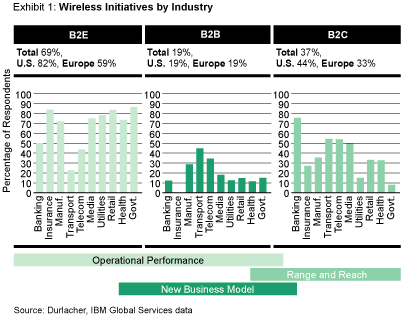 The different emphases reflect variations in strategic intent. B2E m-business investments suggest an interest in improving operational performance. B2C m-business investments are aligned with improving the firm's range and its customer reach. B2B applications are used partly to effect business model changes and partly to boost operational performance. Thus, it appears that firms' main near-term interest is to use m-business to improve performance, not draw revenue, and that they believe performance improvements will be achieved by focusing first on employees. This is a natural development in a difficult economic environment. Performance enhancement often translates into cost savings, which can be quick, observable, and measurable. Revenue growth frequently takes time and requires customer education and behavioral change.
This short-term interest does not necessarily reflect how companies will implement m-business applications over time. When considering a new technology, a company faces two central decisions: how much to invest in the technology, and how to align the investments with the firm's strategic intent. By analyzing m-business investments by the firms in our database, we have developed a framework that can guide other managers as they confront these decisions.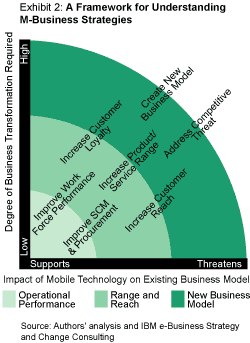 Exhibit 2 shows that framework. The x-axis depicts the degree to which a new technology supports or threatens the firm's existing business model, and the y-axis shows the degree of internal business transformation anticipated as a result of the new technology. Some firms view a new technology as an incremental innovation, and their adoption of it is guided by potential changes to their revenues and profits and by how it can enhance the organization's structure. Others consider a new technology a disruptive innovation that could radically alter their business model and sometimes the entire organization's culture and structure.
This framework shows that internal performance improvement is the "low-hanging fruit" most readily available to a company contemplating a technology investment, which explains the early interest in m-business's B2E applications. About 42 percent of the businesses we studied have equipped their work forces with wireless voice or Internet systems, and another 28 percent are considering rolling out such systems. In these cases, the new technology is seen as supporting the firm's existing business model and not requiring significant internal business transformation. B2B applications can also improve employee, customer, and business partner processes, although the lower degree of implementation found in our survey suggests that executives see these applications as requiring a greater degree of business transformation and having more effect on the business model.
Companies pursuing B2C mobile applications appear to believe that the new technology requires both moderate change in the existing business model and a moderate amount of organizational transformation to adopt. Many firms in banking, insurance, manufacturing, transportation, telecommunications, media, utilities, health care, and government, for example, have begun customer-facing m-business activities to increase customer reach, increase product/service range, or improve customer loyalty. All of these activities — including customer self-service (mobile customer contact, query, and order), mobile applications development and deployment (personalized and location sensitive), and m-business (mobile billing, payment, and transaction) — require some behavioral change on the part of both customers and employees.