Heike Bruch, professor of leadership at the University of St. Gallen in Switzerland, and the late Sumantra Ghoshal, of the London Business School, focus on the concept of will in A Bias for Action: How Effective Managers Harness Their Willpower, Achieve Results, and Stop Wasting Time (Harvard Business School Press, 2004). The book defines will as purposeful action with high energy and high focus, and suggests that, in the authors' experience, only about 10 percent of managers exhibit this behavior.
The book focuses first on the invocation of individual willpower, and then moves on to the contexts that help evoke willpower in others. The "bootstrap," self-help quality of the first part tacitly acknowledges the fact that the descriptive advantages of volition come packaged with a chicken-and-egg conundrum: Where does willpower come from? In the Western management lexicon, motivation is usually something supplied from the outside in — one motivates someone else via an array of incentives and inducements. Willpower, on the other hand, like confidence and courage, is an inside-out, autopoietic process: You need willpower to get willpower!
Despite this apparent need for a developmental process to assist individuals in their search for will, Bruch and Ghoshal instead present their advice in the form of context-free strategies to be pursued. This is not entirely satisfactory, as injunctions to "identify and understand your deepest desires" make the reader wonder who this person might be who can stand outside and understand "me." Clearly a third party — a coach, a therapist, or a supportive team of peers — would be valuable in the process.
For the individual, the marker of the threshold between mere motivation and true volition is what the authors call the "Crossing of the Rubicon," the moment when the priorities become clear and conflicts between thoughts and emotions disappear. Action begins to flow. In both individuals and organizations, this moment is often precipitated by an external challenge, such as a corporate crisis or a new boss. The authors tell several stories about organizations facing challenges and how the responses of managers to these tests changed the level and quality of energy in the organization. Perhaps the major takeaway for the practicing manager is that if willpower, at its roots, is more a personal characteristic to be developed than a competence to be trained, then organizations should always concentrate on management selection before they turn to management development. Indeed, as Jim Collins observed in Good to Great: Why Some Companies Make the Leap … and Others Don't (HarperBusiness, 2001), the question "Who?" should take precedence over "What?"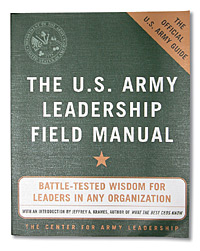 The importance of character to action in an organization is stressed in the U.S. Army development principle "Be, Know, Do." In The U.S. Army Leadership Field Manual: Battle-Tested Wisdom for Leaders in Any Organization (McGraw-Hill, 2004), the meaning of this mantra is explored at three levels: personal, organizational, and strategic. The manual is packed with quotes and stirring anecdotes drawn from some of the most dramatic moments in U.S. history.
The conceptual models of leadership used in the book efficiently convey an eclectic set of ideas, although the armed services penchant for acronyms may occasionally bewilder the lay reader, especially as the index supplies no key to them. "Be" consists of personal values and an individual's mental, physical, and emotional attributes; "Know" is made up of interpersonal, conceptual, technical, and tactical skills; and "Do" is divided into influencing, operating, and improving. Underpinning it all is the army's concept of will — the warrior ethos with its total commitment to winning the wars and its refusal to accept failure.
For managers in the private sector, this manual is a timely reminder that it is possible to create a cohesive, purposeful organization without leaning on that crutch of modern management, the incentive plan. The army is an institution rather than an occupation, and people join it for every reason other than financial reward. The army also makes a clear distinction between training activities and fighting activities, although its leaders go to great lengths to simulate battle conditions in their training so they build sound habits — conditioned responses — that will be robust under stress. Structured opportunities for reflection on action are seen as a critical part of the learning process. Thus after-action reviews (AARs) are designed to allow learning in a team context after a mission and are clearly distinguished from in-process reviews (IPRs), which are used for control purposes during a mission. In the private sector, this distinction is often blurred.