The BP model is a disarmingly simple approach to entrepreneurial transformation, but it is far from unique. The U.S. brokerage firm Edward Jones has become one of the fastest-growing companies in its industry by applying a BP-style model of entrepreneurial transformation, despite its conservative approach to financial services (historically, for example, it has not sold options or commodities). Managing Partner John Bachman says, "I give my people the canvas and the paints they have to use [direction, boundaries]. After that, it's up to them to decide what they paint and how [space]. As long as they stay on the canvas, and use only the paints I give them, I am happy." 3M Company is renowned for its corporate maxims articulating the management methods that sustain its entrepreneurial culture and decentralized structure through good and bad times. For example, there's the "15 Percent Rule," which enables employees to spend 15 percent of their time on pet projects (space), encourages the use of cross-functional and cross-country teams (support), and still adheres rigorously to the broader growth objectives and values of the company (direction, boundaries).
The entreprenurial model also applies to other sorts of endeavors, including sports and the arts, that are perhaps better known as bastions of command-and-control leadership. Sven Goran Eriksson, a Swede who is the coach of England's national soccer team, has become famous for his hands-off approach. Essentially, he keeps the tactics and the team selection simple and gives his players the space to play their natural game. He provides feedback and coaching, but he keeps his interventions to a minimum, a highly unusual approach in the pressured world of professional soccer. In theater, Philip Slater, an academic who became a novelist and playwright, has observed that inexperienced playwrights who direct their own plays (for fear that others will not understand their vision) frequently end up with sterile, even disastrous productions. If the playwright's vision comes through in the writing, the director will see creative ways of enhancing that vision. And so will the actors, designers, and composers.
What Goes Wrong
The BP model serves another purpose. It helps to shed light on what might happen when entrepreneurship is allowed to go too far. Our novel angle here is essentially to ask what would happen if the BP model were taken to its extremes. Enron provides a ready set of examples. (See Exhibit 2.)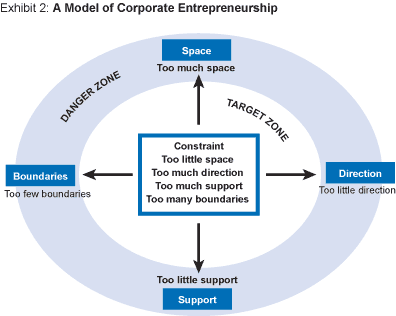 Too Little Direction. Without a clear overarching sense of where the company is going, or what it stands for, entrepreneurship becomes a random set of initiatives. Although each initiative on its own may be perfectly rational, when you put them together, the result is a mélange that stakeholders are likely to denounce as incoherent, vague, or chaotic.
Enron fell into this trap. In the early days of its transformation, under the leadership of the former CEO Kenneth Lay, the company embarked on a number of growth initiatives, but they were all clearly within the natural-gas sector. By the late 1990s, however, the premise behind the choice of new business initiatives was diluted, as the company moved into electricity trading, online trading, weather derivatives, and broadband networks. Mr. Lay and his successor as CEO, Jeffrey Skilling, in effect acknowledged this drift as they gradually began to publicly shift the vision of the company. Starting out with the goal of being the "best gas distribution company," they began to speak of Enron as "the world's best energy company." By 2001, Enron executives were citing as peers such companies as GE Capital, Goldman Sachs, and Merrill Lynch, and they talked of becoming simply "the world's best company." Although Mr. Lay and Mr. Skilling may have understood the logic that unified these diverse initiatives, it's not clear the executives beneath them did.