The establishment of enterprise resilience should involve not only those routinely responsible for risk management and security, such as the CFO, CIO, and chief security officer, but also the CEO, the business unit general managers, the board of directors, and the board's audit committee. With their collaboration, a new risk management approach can be developed to provide a steady stream of information to the organization's top decision makers about the vulnerability of earnings drivers. (See Exhibit 3.) Done this way, ER planning will improve corporate governance and enhance decision making within a company.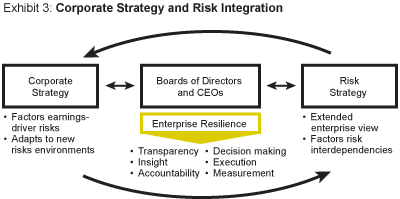 Businesses have always faced risks, but recent events have provided dramatic evidence that, in today's economy, risk is reality. Not all risks can be anticipated, but they can be managed, by senior executives, boards, and stakeholders working together to create a resilient enterprise. Stakeholder expectations are higher than ever, and enterprises that are more resilient will experience more rewards — from increased customer and partner loyalty to the realization of premiums for improved earnings consistency.

Reprint No. 03107
Authors
---
Randy Starr, [email protected]
Randy Starr is a principal in Booz Allen Hamilton's New York office. He specializes in combining business and technology strategy with market insights to implement growth strategies and new business models.
---
Jim Newfrock, [email protected]
Jim Newfrock is a senior director and treasurer with Booz Allen Hamilton in New Jersey. He is responsible for global risk management at the firm and specializes in the interplay of business strategy and enterprise risk.
---
Michael Delurey, [email protected]
Michael Delurey is a principal with Booz Allen Hamilton in Virginia. He specializes in strategic planning, policy analysis, and policy development for government clients with a focus on complex network analysis and critical infrastructure protection.