When oil was discovered in the hills of western Pennsylvania more than a century ago, thousands of prospectors poured into the region, built rigs and started drilling. Then they waited for the gushers of "black gold" to come rolling in.
In that same frenzied spirit, banks around the world are rushing these days to set up Internet sites. By the beginning of 1996, such sites had been built by 285 banks in the United States alone. By late spring, that number had risen to 377, with no sign of letting up.
Early in 1996, Booz-Allen & Hamilton's financial services group began an investigation of the "Internet Bank Rush" by conducting a survey of banks that had opened Internet sites. The survey produced a projection that more than 1,500 banks would develop sites within three years. (See "The Internet's Impact on Retail Banking," in Issue 4 of Strategy & Business.)
Consumer Demand
It was this projection that led to Booz-Allen's second Internet banking study, completed in late summer 1996, which looked at the other side of the equation: "Are consumers actually going to use Internet banking?" "What will these consumers look like?" and "How will their use of Internet banking affect the industry?"
The study found -- not surprisingly -- that consumer demand for Internet banking would depend upon the growth of Internet access and on how many consumers were predisposed to using "electronic banking" in the first place. And on both fronts, the study concluded, the numbers were encouraging for the industry.
Access to Internet banking is set to increase at a fantastic rate, according to a number of sources. Increasing personal computer ownership rates, as well as the rapid adoption of the Internet by business, are expected by many to push the number of Internet users worldwide to more than 100 million by the end of the decade.
As for consumer predisposition to electronic banking, surveys consistently indicate that between 55 and 65 percent of PC owners have at least a mild interest in using their computers to conduct banking transactions.
Putting these trends together, the study estimated that almost 16 percent of American households would be using some form of Internet banking by the end of the year 2000. (See Exhibit I.)
Exhibit I
Projected Internet Banking Households, 1996-2000 Note: Projections are for year-end.
Source: Booz-Allen & Hamilton
Internet Banking and Customer Profitability
Even more interesting were the study's conclusions about the profitability of Internet banking customers.
These customers will be similar to the early users of personal computers: They will be younger, more educated and have higher incomes than the average consumer, the study found.
From a financial institution's perspective, this group represents an extremely profitable segment of the customer base. Not only do these customers have high incomes and attractive long-term prospects, but they are also at an age when they are heavy users of a financial institution's most profitable products, such as mortgages and auto loans.
In fact, today's on-line banking customer often accounts for three to four times as much profit as the average customer. Even though this difference will decrease as more people turn to Internet banking, five years from now the on-line user should still produce nearly twice as much profit as the typical bank user.
This high profitability means that while users of Internet banking may represent only 16 percent of total customers by the end of 2000, they may well account for almost 30 percent of retail banking profits. (See Exhibit II.)
Exhibit II
Projected Internet Banking Usage and Share of Retail Banking Profits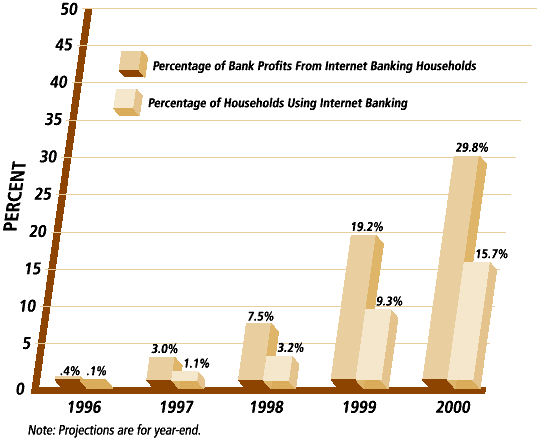 Source: Booz-Allen & Hamilton
Trouble on the Horizon