The Internet's Impact on Retail Banking
(originally published by Booz & Company)
Since the Great Depression, consumers have largely chosen their banks based on how convenient a bank's branches were to their homes or offices. Well aware of this, banks spent billions of dollars building up their branch networks to secure the most convenient locations in the most attractive communities. Today, branches serve as the cornerstone of competitive advantage in the retail banking industry.
It is no wonder then that the Internet has inspired a crisis of confidence in that industry. With its 24- hour access, national footprint, low barriers to entry and attractive demographics, the Internet has confronted retail banks with a series of difficult strategic questions: How soon will the Internet have an impact on retail banking? How will it change the competitive dynamics of the industry? What needs to be done to prepare for these changes?
To help answer these questions, Booz-Allen & Hamilton's financial services group recently conducted a study that included the first-ever survey of banks that operate sites on the Internet.
Current and Future Prospects
For now, banks don't have much to worry about, the survey revealed. For example, even though 285 North American banks have opened Internet sites, only 1 percent of those sites are actually offering banking services. The majority of sites, more than 70 percent, are little more than glorified brochures, providing only general information.
But this underdeveloped state won't last for long. In fact, 90 percent of the survey respondents have aggressive plans for improving the size and functionality of their Internet banking offerings. So much so that within three years, 69 percent of the banks plan to offer such advanced services as bill payments over the Internet.
Based on these plans, as well as estimates of the overall growth of the Internet, the study projects that the number of bank Internet sites will explode to almost 1,500 within three years. (See Exhibit I.) Now that's something to worry about.
EXHIBIT I
BRANCHING OUT TO THE NET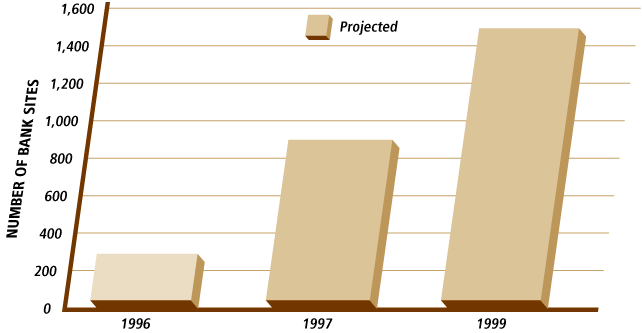 Source: Booz-Allen & Hamilton
Even more worrisome is the fact that Internet banking clearly represents a low-cost alternative to branch banking. For example, more than two-thirds of the respondents spent less than $25,000 to establish an Internet site, and 84 percent were spending less than $25,000 a year to maintain it. Even though these costs will rise as banks increase the size and functionality of their sites, they should still be well below the $1.5 million to $2 million required to set up a traditional branch and the $350,000 to $500,000 a year needed to operate it.
Indeed, a simple comparison of expense ratios (total non-interest expenses/total revenues) indicates that an Internet bank potentially could be as much as 70 percent less expensive to operate than a traditional bank. (See Exhibit II.)
EXHIBIT II
BANK EXPENSE RATIOS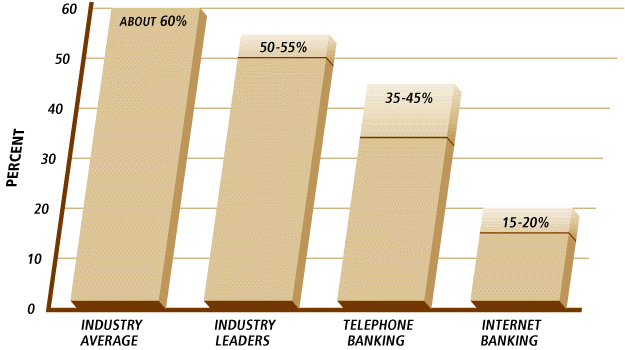 Source: Booz-Allen & Hamilton
Impact on the Industry
The main impact of hundreds of low-cost Internet banking sites will be to "commoditize" convenience, since all Internet banks will have the same geographic reach, operating hours and service levels. This change will effectively eliminate the competitive advantage afforded by a branch network.
On top of this, Internet banking consumers will be able to switch banks with much greater ease than they can today. These lower switching costs, combined with generic convenience, could result in a dramatic decrease in customer loyalty and stiff price competition.
Banks' Response
To avoid this fate, banks will have to build a new and sustainable source of competitive advantage. Early signs are that this new advantage will be built on two key elements: customer knowledge and decision science capabilities.
Customer knowledge will form the foundation of a bank's competitive advantage due to its proprietary nature and rich cross-sell potential. Decision science capabilities, including predictive models and intelligent agents, will translate customer knowledge into customized product and service offerings that appeal directly to the needs of individual consumers.
Of course, a lot remains to be seen, the most important of which is how many people will actually want to do their banking over the Internet. While that question will undoubtedly serve as the fodder for future studies, one thing is now clear: A lot of banks will be around to greet those who show up -- and it sure won't be business as usual.

Reprint No. 96301
Recommended stories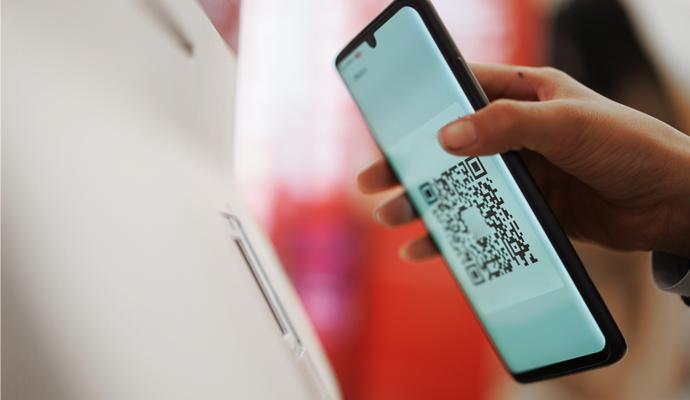 As the long-established industry is reshaped, looking ahead to five far-reaching hypothetical scenarios can help focus the strategic mind.