Some of the drivers of change are inside the constellation and some are outside. Changes in context -- that is, in technology, market pressures or in the other businesses of the alliance partners -- can change the costs and benefits of a particular alliance. Organizations that adjust to new circumstances may survive, others typically suffer deteriorating performance and decline.
The effects of internal drivers of change are more complex and less deterministic. Often, the process of internal change can be represented as a circle of causation: the initial capabilities of partners determine the initial balance of power in an alliance; the alliance in turn shapes and transforms the partners' capabilities; these new capabilities then shift the balance of power, and so on. Such a process can be a vicious circle to the partner who sees its relative capabilities decline and control slip away, and a virtuous circle to the other party.
Exhibit II
Evolution of the Relationship Between Xerox and Fuji Xerox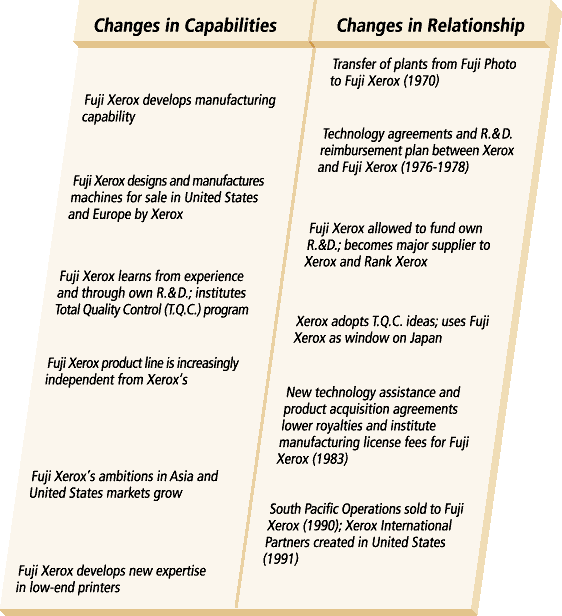 Source: Interviews at Xerox and Fuji Xerox
This circle of causation is evident in the relationship between Xerox and Fuji Xerox. The Japanese joint venture was set up to transfer xerography to Japan and adapt it to local market conditions. As Fuji Xerox did that, it became increasingly capable in developing and manufacturing its own low-end copiers. Gradually the division of labor between the companies shifted, and Fuji Xerox acquired more and more responsibility in the Xerox global strategy. Decision-making structures were adjusted accordingly, until Fuji Xerox became -- for all practical purposes -- an equal partner to Xerox in selected businesses. The steady series of adjustments in response to new capabilities in this constellation is summarized in the accompanying exhibit.
The sequence of strategies adopted by Xerox and Fuji Xerox was not planned beforehand; instead, one thing led to another. The Xerox case is not unique in this sense: alliances seldom end up as they started. Although some aspects of their evolution may be predictable, many others are not.
This conclusion highlights one of the key underlying differences between single companies and constellations. Single companies, too, evolve and are subject to forces of change. But in companies, there are also more forces against change -- bureaucracies with ingrained interests, established ways of doing things, loyalties among employees, market positions and image to defend and so on. As a result, the evolution of companies is more predictable than is the evolution of a constellation -- it adheres more closely to a common theme and path.
The lesson for managers is clear: alliance instability should not be feared, but embraced. Indeed, managers should be wary of alliances that are too stable, a condition that may indicate stagnation or, worse, mounting pressure for change. Effective alliances evolve continually to keep up with changes in the environment and in the partners' capabilities and goals.
Also, a rival's use of alliances may create pressures for new alliances or for modifications to one's constellation. And the terms of an alliance will typically need to be changed to allow the partners to pursue new opportunities.
When companies use alliances in competitive battle, the nature of that battle changes. The essence of the new collective competition is that alliances inside constellations influence rivalry among constellations, and the reverse.
Xerox and Fuji Xerox, for example, collaborated at one level and competed at a higher level with Canon. The same is true for larger constellations facing each other in today's telecommunications, multimedia and other high-technology, global industries.
In every case, collaboration within constellations occurs in tandem with competition between constellations. As a result, the following patterns frequently arise: