Mr. Raduchel has to look back 40 years to find a tool of comparable impact. "The last technology that really changed the way offices work was copying machines, not personal computers,'' he said. "Networks are the electronic equivalent of copiers. They let multiple people see information. Creating a Web site is the electronic equivalent of handing out copies, but it has the virtue of being independent of time and place. The copier let anyone be a publisher; the Web lets anyone be an electronic publisher.''
Because it is essentially a publishing medium, the intranet lets content creators maintain ownership of their data, in the sense that they control how much information is made available as well as the manner in which it is presented. They decide, for example, whether to publish their data in a format that can be read by a browser, or whether to make the information accessible to any of the powerful querying tools that can now be embedded in a browser.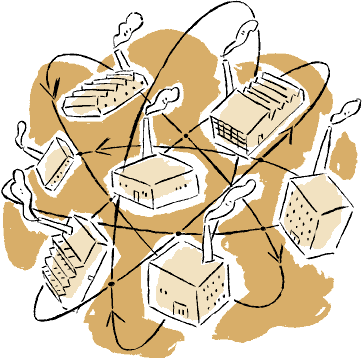 "I don't want to give away my data; nobody does,'' Mr. Raduchel said. "But I love to use my data to get recognition and gain influence." On the intranet, he added, you not only control the data, but you also get the credit.
Publishing is the first application most companies made available on their intranets, just as it was on the Internet. Typically this means putting paper-based documents, like corporate policies and procedures, into electronic form, or translating commonly used data bases, like product catalogues or employee directories, into HTML, or hypertext markup language, the lingua franca of the World Wide Web. Once transposed, these documents are available to any employee with a browser, like Netscape Communications Inc.'s Navigator or the Microsoft Corporation's Internet Explorer.
These sound like humble uses for such a powerful tool, and they are, but they have the virtue of being easily accomplished. It is not hard to show a positive return on investment when hundreds of thousands of pages of paper can be replaced with an internal Web site. No less important is the reduced demand on clerical staff and self-appointed company experts to find elusive bits of information. No one need page through manuals when the answers are a mouse-click and a "hot link" away.
"Some of the cost savings are tangible but many more are intangible,'' said David Leong, Internet technologies project leader at the Sandia National Laboratories, which has deployed employee directories and a conference-room scheduling application on an intranet linking its sites in Albuquerque, N.M., and Livermore, Calif. The savings for Sandia are a mixture of reduced paper and clerical time.
But even among Sandia's technically sophisticated work force, employee buy-in to the system has not been automatic, Mr. Leong said. "One of the lessons learned is that the cultural and political barriers are much harder to overcome than the technical barriers,'' he said. "People are just used to a certain way of doing things.'' Employees accustomed to having a paper bulletin about the labs delivered to their desks are not necessarily inclined to seek out its electronic equivalent on an intranet Web page, he noted.
For many companies, the adoption of an intranet was eased by a previous positive experience with the Internet. "The Internet brought home the paradox of commercial networks,'' said Marc Andreessen, co-founder and senior vice president for technology at Netscape, the leading provider of intranet software. "It became clear that it was easier to find information on a Web server in Australia than on your own internal system. Now the investment going into intranets is 10 times the amount going into the Internet for commercial use."