4. Nonexecutives Feel Micromanaged
A key survey question that drew a consensus response across organizational levels was, "Managers above me in the hierarchy 'get their hands dirty' by getting involved in operating decisions." More than half of all respondents answered, "Frequently," with senior managers outreporting all other groups at 65.4%.
But survey results suggest that is where the consensus ends. Although senior managers likely view their involvement in operating decisions as good (given their overall positive bias), junior managers report feeling micromanaged. There is widespread agreement among business unit and corporate staff, as well as line managers, that "decisions are often second-guessed." Fewer senior managers, as a percentage, see it that way.
There is also a disparity in beliefs regarding the role of corporate staff. Although business unit staff, line management, and middle management believe that "corporate staff exist to support their efforts," corporate staff respondents believe their role is to audit line operations, a view senior management overwhelmingly supports (see The New CFO Agenda, The View From the Top, Management Spans and Layers).
These differences in perception can lead to significant organizational dysfunction. Business unit personnel may feel frustrated as they spend more time reporting up the hierarchy than doing productive work. Not surprisingly, lower-level employees report a higher incidence of "analysis paralysis" and overly bureaucratic decisionmaking in their organizations. Feeling distrusted, underestimated, and trapped in an overly politicized environment, those with initiative and exceptional talent may well defect.
5. Decision Rights Are Unclear
If lower-level employees are feeling stifled by excessive bureaucracy and layers of micromanagement, it could well be because decision rights are so poorly communicated in many organizations. More than half of the Profiler respondents indicated they felt that the accountability for decisions and actions was unclear in their organizations. This finding was consistent across all organizational levels, though senior management was slightly more sanguine (see Exhibit 6).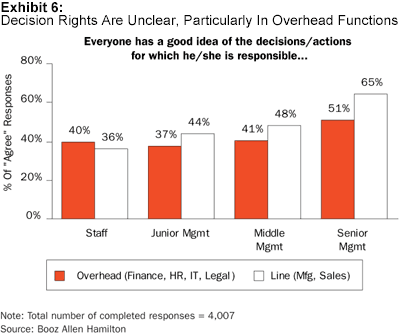 Although decision rights are remarkably vague across the board, the lack of understanding seems particularly acute within overhead functions (e.g., Human Resources (HR), Finance, Information Technology (IT)) where redundant "shadow staff" frequently multiply to fill the gaps left by incomplete or poorly specified responsibilities (see Shining the Light on Shadow Staff). Since so many overhead functions are now outsourced to third-party vendors, decision rights in those organizations may be falling victim to unclear service level agreements and governance mechanisms (see Business Process Outsourcing & Offshoring; Optimizing Internal Demand; Driving Demand Management for Internal Services).
In line organizations (e.g., Manufacturing, Sales)—except at the lowest levels—decision rights are slightly clearer, perhaps because those organizations face more direct market pressure to resolve conflicting or poorly specified responsibilities that inhibit customer responsiveness.
6. What We Have Here Is a Failure to Execute
Execution is a widespread problem that appears to worsen as companies grow. Although 37% of small company respondents (under $500 million in annual revenue) thought their organizations translated strategy into action quickly, only 29% of the respondents from the largest companies (more than $10 billion in revenues) agreed with that statement.
Respondents at all levels in companies across industries indicate that their organizations struggle to execute decisively and effectively. Less than one-third of nonexecutive respondents agree that "important strategic and operational decisions are quickly translated into action" in their organization. Even at the most senior levels, fewer than 50% of respondents indicate that their companies act decisively in implementing strategy.
Along with generally unclear decision rights, lack of timely and relevant information may also contribute to ineffective execution. A majority of respondents at all levels reports that "field/line employees frequently lack the information they need to understand the bottom-line impact of their day-to-day choices" and disagrees with the statement that "information flows freely across organizational boundaries" (see Exhibit 7). As always, senior managers as a group are slightly more upbeat in their assessments, but most still take the dim view in their responses to these questions (see The View From the Top).