A World of Increasing Competition
In January and February 2011, a team at Booz & Company set out to calibrate the attitudes and prospects of the U.S. automobile industry through an online survey. Coming from more than 40 leading automobile manufacturers and suppliers, the 200 participants included more than 50 corporate leaders at the C-suite or executive vice president level. More than 70 percent of the companies represented were North American, 15 percent were Asian, and 12 percent were European.
One telling response concerned the challenges that major automobile manufacturers will face in the next three years. More than half of the automaker executives (not including the suppliers) chose increasing competitive pressure as either the first or second most critical challenge for their companies. Seventy-six percent listed it among their top five. One reason for this response, of course, is the continued growth of Japanese manufacturers such as Toyota and Honda; they remain formidable rivals to the Detroit Three. Korea's Hyundai and Kia have also garnered much attention recently with aggressive and successful growth strategies, built on compelling lineups offered at appealing prices and produced in efficient factories.
But the looming presence of Chinese companies also casts a large shadow. Fully 90 percent of the survey respondents said that Chinese automakers would be making cars equal in quality to American-made vehicles by 2021. (See Exhibit 3.) About half of all respondents (from among both OEMs and suppliers) said that milestone could be reached by 2016. This is a startling response, because of the speed and immensity of this change in the most highly competitive and open automobile market in the world. In other words, the executives believe that companies like Geely Automobile, which acquired the Volvo brand from Ford, and BYD, partially owned by Warren Buffett, will achieve in 10 years what Toyota and other Japanese companies took nearly 30 years, and Korean automakers about 20 years, to do.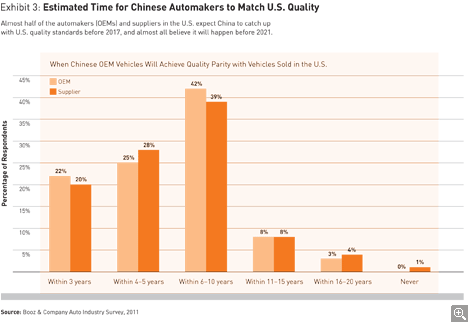 Judging by the frequency of response, the next greatest challenges that automakers see facing them are pricing and cost position. The perennial issue of bringing down the unit cost of a given automobile will be even more of a concern, especially as lower-priced automobiles are introduced by new competitors. We can thus expect to see automakers place continued emphasis on operating with lean organizations and increasing their productivity. The macroeconomic environment and labor relations were also named as important challenges by relatively high numbers of respondents. Other potential problems were rated much lower as concerns; these included the quality of management teams at the major automakers, the appropriateness of the strategy followed by the respondents' companies, the capabilities of dealers, and, significantly, relations with auto suppliers. (See Exhibit 4.)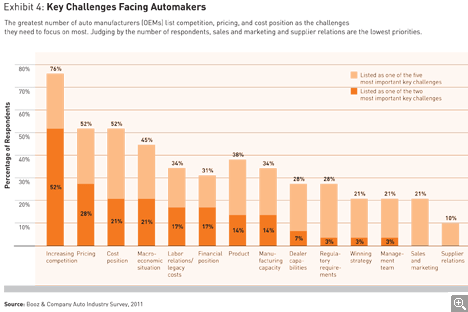 Although diverse, the responses suggest a clear view of the best road to success for automakers. This includes bringing the right portfolio of vehicles to market with viable investment economics; appropriate levels of quality, reliability, and durability; production aligned with market demand; and strong brand and consumer equity. These factors are prerequisites for earning an industry-competitive return on invested capital. And automakers must juggle all these strategic objectives while operating with greater price discipline than they had during the boom years of the early 2000s, when credit was cheap and customers were more willing to make high-ticket purchases.
"Typically, auto companies would watch competitors, and when one's models became old compared to the competition and when the competition produced more product than they could sell, pricing pressure hit and everyone began to discount or offer incentives," says Torsten Buhrke, director of corporate planning at Kia Motors America. "If we go back into that way of thinking — tackling overcapacity with price discounts — the industry hasn't learned much. But if we keep inventories low and production linked to demand, we have an opportunity to take advantage of beneficial demographics, replacement levels, and breakeven points to enjoy a highly successful next few years."