The Prospects for Auto Suppliers
At first glance, the survey seems to convey a great deal of optimism about the prospects for automobile suppliers in the United States. Many suppliers have been extremely successful in cutting out operational costs and in reducing breakeven points, and they are consequently bullish about revenue gains this year. In fact, sales are expanding so fast now that the lion's share of respondents (42 percent) pointed to difficulties in hiring enough engineers as the main obstacle to growth.
But there are also warning signs. For many auto suppliers, the current levels of revenue and profit reflect a bounce back from extreme lows in sales during the downturn, as well as pricing relief provided by the OEMs. In other words, they may turn out to be temporary conditions. Other factors may also change; for example, as industry conditions improve, general levels of R&D activity will rise, leading to higher innovation-related costs for many suppliers.
Survey respondents welcome the current turnaround — but they do not attribute it to fixes in the fundamental problems that have plagued auto suppliers for the past decade. For example, many suppliers continue to find themselves in an unsustainable position when it comes to value. With an overabundance of competitors in their product categories, they lack the leverage to set terms that would earn them a positive return on their invested capital. Instead they become, in effect, low-cost order takers and executors. In the long run, this leads to unstable supplier relationships and lower investments in research and development. As auto components become commodities, the industry becomes less equipped to compete overall. This dynamic is reflected in the two concerns most widely named as critical challenges by suppliers: cost position and engineering R&D innovation. (See Exhibit 5.)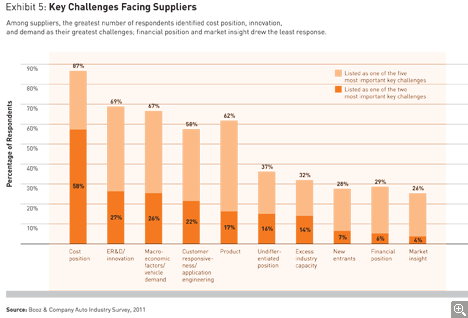 As the business heats up and auto suppliers compete for OEM customers, they will need to rethink their place in the auto industry ecosystem and try to differentiate themselves from their competitors. They can charge sustainable prices only when they stand out — through innovation, better performance, or lower cost structures, or through helping to create end-user demand (for example, via well-crafted and well-designed electronic entertainment systems, better headlamps, or other amenities).
To us, the survey results suggest that many auto suppliers may not be well positioned to manage their relationships with OEMs in this way. When asked which capabilities would be most important going forward, respondents from supplier companies favored three: cost position (with 56 percent ranking it in the top two approaches), product quality (37 percent), and having the global reach to support OEMs (35 percent). Innovation and product performance followed at 21 percent and 19 percent, respectively. As previously noted, executives ranked supplier relations as the automakers' lowest concern, whereas suppliers said that capturing the lowest cost position and making sure that they satisfied the demands of OEMs globally were the most vital predictors of their success. Finally, auto suppliers said that among the least important issues were having a well-defined strategy (selected by 11 percent) and deep market insight (4 percent). Yet for most businesses, these are two critical prerequisites for achieving a differentiated market position, and thus long-term viability.
"A product's price is directly proportional to the value it creates," says David Johnson, CEO of Achates Power Inc., which is developing an energy-efficient engine. "Any time that you aren't delivering a unique technology or unique features that will create market demand or fill a real need in the market, your product becomes commoditized — and the next thing you are doing is price and quality competition. That's not a long-term winning formula."