4. Brands in crowded, weakly positioned clusters tend to suffer from eroding margins.
Brands positioned closer to the lower left-hand corner of Exhibit 1 (i.e., those with higher cost of ownership and lower product excellence) offer less value to consumers. Such brands naturally tend to achieve lower purchase consideration and hence volume. A large number of such brands within the mass-market segment are competitively disadvantaged relative to other brands within the same segment and relative to brands in neighboring segments, as Exhibit 1 shows.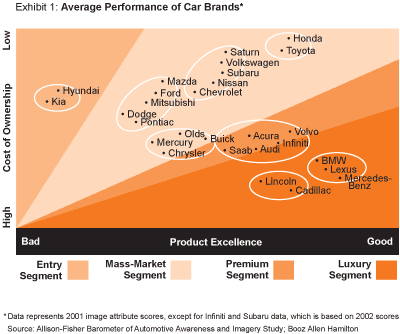 For vehicle manufacturers with large capital investments, this situation is untenable. They must seek to improve at least one of the two holistic brand measures for their brands. Because improvement of a brand's product excellence is difficult to accomplish across an entire product portfolio and generally requires up to a decade, the only way for brands to improve their positioning quickly is to lower product prices and offer customers better cost of ownership.
By contrast, Honda and Toyota have clearly distanced themselves from the rest of the mass-market segment. In the consumer's mind, Honda and Toyota represent a combination of product excellence and cost of ownership that so far surpasses all other competitors that they operate along a different trade-off curve. While not yet in the same league, several other brands, such as Volkswagen, Saturn, and Subaru, have also separated themselves from the rest of the pack.
5. Brand positions tend to change relatively little over time.
Consumer perceptions are shaped in large part through accumulated product experience, both firsthand and indirect. Consumers also use a large number of objective sources of information to supplement their direct product experience (e.g., word of mouth, product reviews, and safety ratings). As a result, the perception-forming process is long and relatively immune to simple manipulation by the manufacturer, in contrast with most consumer goods, whose brand equity is created substantially through advertising.
Although marketing communications certainly play an important role in what consumers think, the only way to sustain meaningful change in automotive brand perceptions is with ongoing, consistent changes in the underlying product experience. Furthermore, since brand value is a function of performance relative to the brand's competition, significantly altering brand perceptions requires a manufacturer to systematically improve its entire product range faster than its competitors do.
Over the past two decades, most manufacturers have made concerted efforts to improve product quality, develop new features, and reduce costs. They have used various techniques, such as computer-aided design, system outsourcing, and component reuse, to speed up the product development cycle, reducing the time it takes to respond to competitors' innovations. As a result, it is increasingly difficult for manufacturers to improve their products continuously at a rate that outpaces the market.
Doing so requires a coordinated strategy and a concerted effort. In the late 1990s, Volkswagen deployed a steady stream of new products to significantly shift consumer perceptions of its brand. VW leveraged product and process technologies that had been developed for Audi in such areas as engine packaging, powertrain, chassis tuning, advanced material forming, and tight tolerance assembly. The result was a slate of products, including the Jetta, Passat, and New Beetle, that offered superior ride, handling, styling, and assembly quality at a reasonable cost. Furthermore, the migration of Audi process and product technologies to VW did not erode consumers' perceptions of the Audi brand. However, recent reports of cross-model quality problems (e.g., ignition coil faults) could serve as the reversal point of VW's recent brand improvement journey.
Like VW, the Hyundai and Kia brands have benefited from a sustained flow of new products that offer significantly improved quality, attractiveness, edgy styling (at times), and extremely low cost of ownership due to low sticker prices and extended warranty coverage. The resulting value proposition has not only increased these brands' unit volume, but also has radically changed consumers' perceptions of the brands. What is stunning is how much the Korean brands have improved in such a short time, especially in comparison with how long it took Toyota and Honda to shake their reputation for producing tin cans. If the Korean brands continue to improve their reputation for product excellence while maintaining their cost of ownership, they could leapfrog the Big Three mass-market brands to join the cluster currently defined by VW, Nissan, and Saturn.