These findings have considerable implications for companies intent on improving their return on innovation investment. Given that each firm (or unit) has an intrinsic curve that limits the return it achieves from marginal investment in innovation, and that companies within the same industry can differ wildly in their innovation effectiveness, it is clear that firms must raise the innovation return curve.
The results of raising innovation effectiveness can be profound: Companies increase the return on their base innovation spending (more high-quality new products, faster, and at lower cost) and get an option to invest more while maintaining a high level of return. The height of the curve defines the company's overall innovation effectiveness. Which leads us to our second pillar:
Pillar Two: Master the Entire Innovation Value Chain
Raising the inherent innovation effectiveness curve requires senior management to understand that innovation is not a discrete activity, but a multifunctional capability that requires several types of competencies. In fact, executives ought to look at successful innovation as the expression of a well-organized value chain or value web. An innovation capability requires owning or sourcing four critical sets of capabilities: ideation, project selection, development, and commercialization. Since a chain is only as strong as its weakest link, the innovation effectiveness curve cannot be raised unless all four elements are mastered. (See Exhibit 3.)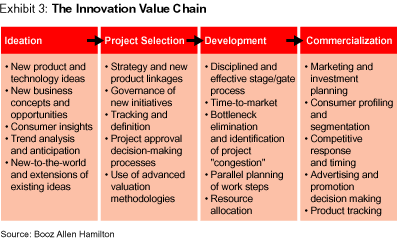 This value chain is relevant for any development process, whether for consumer products, industrial equipment, or services. The best practices adopted by superior innovators along each link of the chain also, in our experience, transcend industry boundaries.
Ideation. Superior innovators create and institutionalize a direct link between strategic priorities and idea generation. They demonstrate market insight by understanding both how much novelty the market wants and will absorb, and how the right new ideas can create such benefits as category growth and gains in market share.
One of the crucial elements of successful idea generation is an advanced market-insight capability. Rapid identification of and reaction to emerging consumer trends enable a company to be first to market with new product introductions. Superior innovators continuously monitor customer insights for inspiration. They have a flexible ideation process that embodies the philosophy of 19th-century rail mogul Cornelius Vanderbilt, who was known for entertaining any crackpot who wanted to see him because "you never know where a good idea comes from." Best-in-class innovators maintain a large pool of ideas and are reluctant to kill anything before significant investment decisions have to be made. After all, ideas are (almost) free.
Idea generation is both art and science. In the world of consumer products, it functions along two dimensions: consumer needs and technology. Innovating along one dimension only limits opportunity and return. Ideas that address new market needs and are based on existing technology can be replicated easily and do not result in long-term sustainable advantage; new technologies that address an existing market need typically cause a fierce competitive reaction (often in the form of price reductions) from incumbent competitors, deteriorating profits for all players. Innovations that are considered "breakthroughs" — those that lead to outsized return on investment and sustainable profits — are innovative along both dimensions. Examples include such home runs as Listerine PocketPaks breath freshening strips and the Apple iPod digital music player. (See Exhibit 4.)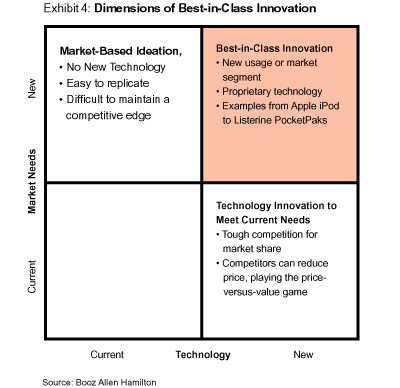 Project Selection. At some point, the large pool of ideas must be funneled into a smaller pond of funded projects. In many companies, this is where the innovation value chain breaks down. Our benchmarking study showed that the governance of new initiatives and the management of new product portfolios are usually misunderstood and underdeveloped. We have seen very few companies in which these capabilities were fully developed and properly applied.