"Brand relevance" is an oft-used phrase, but it generally has not been well defined or explained. Fortunately, there is a simple model that executives can use to assess their brands' relevance, and to evaluate emerging product categories and subcategories. After presenting this model, this article will examine seven important product class dynamics that drive brand relevance. Finally, it will offer a framework by which companies can develop strategies for adapting their brands to changing trends in the marketplace. Companies have three options: to be trend neglecters, trend drivers, or trend responders. Neglecting trends is a risky road that often leads to oblivion; trend driving, with its huge upside, is certainly attractive, but rarely a real option. Most firms need to learn to be good trend responders, and build the organizational skills to detect, evaluate, and react to change, and to develop a well-conceived brand portfolio strategy.
Defining Relevance
Relevance for a brand occurs when three conditions are met:
A product or service category or subcategory — defined by some combination of attributes, applications, user groups, or other distinguishing characteristics — exists or emerges.

There is a perceived need or desire on the part of a customer segment for the category or subcategory.

The brand is in the set that segment considers to be material to the product category or subcategory.
To better understand relevance and the concept of product categories and subcategories, consider a simple model of customer–brand interaction. (See Exhibit 1.) Customer choice takes place in five stages. First, the customer is motivated by a problem, need, or opportunity — in this example, the need for personal transportation. Second, the customer selects a product category or subcategory perceived to be relevant to the problem or opportunity; he or she may decide to buy a luxury sports sedan rather than a compact or an SUV. Third, the customer determines which brands to consider — in this case, the choice might include Audi, BMW, Lexus, and Cadillac. In the fourth stage, perhaps after some evaluation, the consumer selects one brand from the consideration set. Finally, the product is acquired, and the process culminates in a usage experience that may influence the next cycle.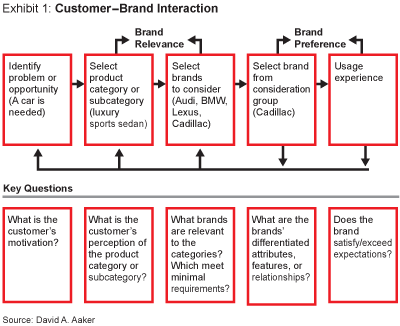 Brand relevance involves stages two and three of the framework — whether the product category or subcategory is deemed to meet the customer's need, and whether a brand is associated with the particular product category or subcategory. A brand's relevance depends on both. Although preference based on a differentiated offering and a positive use experience can help to enhance a brand's relevance, if the need or category association is missing, the brand lacks relevance, and no differentiation, attitude, or relationship will help.
A distinction should be made between categories associated with a brand and brands associated with a category. Knowing which categories are associated with the brand is actually not very important. The key is determining which brands are associated with the product category or subcategory. Those are the brands that pass the relevance test. To be relevant, a brand should at least be recalled without aid. Simple recognition — when a customer identifies from a provided list brands associated with a particular product category or subcategory — is generally too weak a measure. (In fact, brands with high recognition and low recall are often termed graveyard brands.)
However prominent a brand might be, though, visibility is not enough to keep it relevant. Thanks to the rapid pace of global technology transfer, capital flows, and communications streams, product categories and subcategories can come into existence and disappear with startling speed. Because new categories can represent strategically important threats or opportunities, marketers have to be very attentive to the forces that drive their emergence. There are seven such dynamics.