Below 10 Percent
That changing dynamic is, at first glance, not apparent in our biggest aggregate statistic — the percentage of the world's largest companies that changed their chief executive. Among the world's top 2,500 companies in 2003, the CEO turnover rate was 9.5 percent — below 10 percent for the first time since 1998. The peak year for the global turnover rate was 2000, when it reached nearly 13 percent.
The easy interpretation of the 2003 rate is that global succession is reverting to the mean. But the downtick obscures striking differences in the incidence of CEO successions in different regions of the world, and the continuing shift toward greater forced turnover.
Regionally, the succession rate was highest in Japan, where 13.8 percent of the largest companies changed their CEOs — a 42 percent increase over 2002. (Improved local-language data collection in Japan has found a much higher incidence of succession events over the six years we studied than previously reported, so this year's study supersedes all others.) To a large extent, this reflects the cyclical nature of planned successions in Japan. The turnover rate in the rest of Asia declined to 5.3 percent from the high of 9.4 percent in 2002. The rate of CEO succession in Europe remained at 9.7 percent, but for the first time was higher than in North America, which had its lowest succession rate since we began tracking the data. The regional trends in overall succession events can be seen more clearly when indexed to the rate of succession in 1995, our study's benchmark year. (See Exhibit 1.)

The overall decrease in turnover at the top is due primarily to the decline in what we classify as performance-related successions, which include any departure initiated by the board, attributed by the media to poor financial or managerial performance, or ascribed to "personal reasons" that accelerated a previously planned retirement. Globally, performance-related successions occurred at 3 percent of the top 2,500 companies in 2003 — a 29 percent drop in forced turnover from 2002, but close to the forced-turnover rate in 2000. (See Exhibit 2.)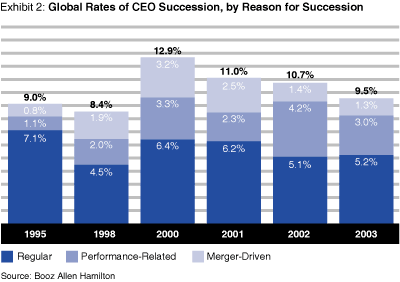 Our other two classifications are merger-driven, in which a CEO's job is eliminated after an acquisition, and regular, which includes planned retirements, a CEO's acceptance of a better position elsewhere, health-related departures, or death in office. Regular and merger-driven successions were about even with 2002's low rates, at 5.2 percent and 1.3 percent, respectively.
This was the second year in a row that merger-driven successions were low. As we noted last year, merger and acquisition (M&A) activity should rebound in a rising stock market, particularly against the backdrop of performance pressures. After all, many M&A deals mask forced transitions: If the target company was doing well, it likely wouldn't have been prey. Although merger-induced succession did not climb in 2003, M&A action certainly appears to be rising in 2004, with the proposed takeover of France's Aventis by Sanofi-Synthelabo and J.P. Morgan's announced acquisition of Bank One, among several large transactions awaiting closure. Thus, we expect merger-driven successions to rise in 2004 and 2005, as deals conclude and management changes take place.
Last year, we hypothesized that the overall rate of CEO turnover in North America would average about 11 percent per year, higher in years with extensive merger activity and lower when merger activity was minimal. The overall rate of CEO turnover in 2003 is consistent with our hypothesis. Total turnover is lower than 11 percent partly because of the low rate of merger activity. As economic recovery prompts increased merger activity, we expect total annual CEO turnover to rise to 11 percent — and even beyond when merger activity reaches its next cyclical peak.