The linkage between a CEO's fate and shareholder returns is statistically significant. CEOs who left office as planned in 2003 generated average shareholder returns 4.4 percentage points ahead of their regional stock markets — and a full 6.9 points higher than their colleagues forced from office. This "return gap" is slightly higher than in 2002 but significantly lower than in both 2000 and 2001.
The ways shareholders define underperformance, and the degree to which they accept it, differ markedly by region, however. In North America last year, CEOs forced from office generated median regionally adjusted returns that were only 4.6 points lower than leaders with regular successions; in Europe, it took a 5.5 point shortfall from the median to provoke dismissal. The 2003 difference in median returns in North America is the lowest seen over the six years reviewed, and continues a narrowing trend that began in 2001 in both regions, indications that shareholders continue to be intolerant of performance shortfalls.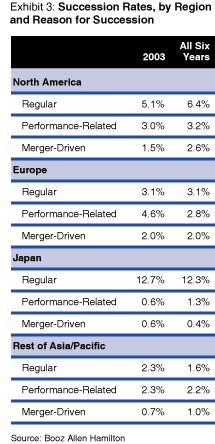 U.S. Firing Squad
Reviewing the trend in performance-related successions last year, we questioned whether the unabated pressure on corporate directors would continue to ratchet up the high rate of performance-driven succession in North America, and whether the pace of forced succession in Europe would also continue to increase. In 2003, the patterns in North America and Europe diverged: Forced turnover in North America declined to 3 percent, slightly lower than the average level across all six years we studied, while Europe experienced its highest-ever rate of forced succession, 4.6 percent. (See Exhibit 3.)
With the benefit of hindsight, it appears that the 5.2 percent rate of forced succession in North America in 2000 and even the 4.3 percent rate in 2002 were aberrations, much higher than the long-term trend line. Newsmaking financial irregularities at Enron, Tyco International Ltd., Adelphia Communications, and the HealthSouth Corporation, among other companies, weren't responsible: They were too few in number. No more than 0.3 percent of CEOs lost their jobs in any year studied because of financial scandals or allegations of misconduct. The major factor explaining the extraordinary levels of forced turnover, rather, appears to be the performance of the stock market.
The stock market collapse of 2000 and the subsequent recession triggered peaks in both voluntary and involuntary turnover. The voluntary opt-outs make sense; lower expectations for the value of a CEO's stock options and the change in skills required to lead companies during a downturn induce more CEOs to step down.
But the character of the forced turnover, in many ways, defies logic. The high rates of involuntary succession were concentrated in industries that had unusually poor performance for investors, like telecommunications and information technology (in 2000, 2001, and 2002), consumer discretionary in 2000, and utilities in 2002. (See "Risky Businesses," below.) In the U.S., investors apparently want CEOs to share the pain of poor returns.
Risky Businesses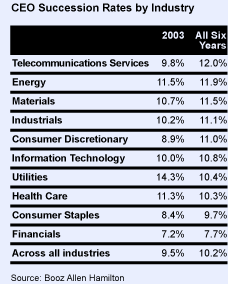 Of the 10 industry sectors we examine, financial services continues to be the "safest" by far for CEOs. The 2003 succession rate of 7.2 percent for financial- services companies was even lower than the sector's average for the six years surveyed. The most "dangerous" industry was utilities, where 14.3 percent of the largest companies changed CEOs last year — nearly twice the turnover rate in financial services, and half again as high as the overall global succession rate of 9.5 percent. The high rate in utilities is a recent phenomenon: Over the six years Booz Allen has tracked, utilities are close to the global mean rate of 10.2 percent. Another industry in transition was energy, with a succession rate of 11.5 percent, just below its six-year mean of 11.9 percent. Throughout the six years we have studied, telecommunications companies have experienced the highest succession rate, 12 percent.