This kind of "recentralization" doesn't come easily or painlessly. It presents real organizational challenges — and in many cases requires organizations to change ingrained behavior. Investing for growth requires harvesting cash from businesses with lower potential in order to fund opportunities in a disciplined way. That implies overcoming political resistance in companies where the low-growth businesses have been an important part of the organization's history or culture — the way Pepsi divested restaurants, or Procter & Gamble abandoned food — in order to focus on growth.
Consolidated Losses
In many ways, the consumer products industry has been victimized by the mythology that developed during a century of very real success.
Starting in the late 1800s and continuing for decades, few businesses were more sustainable or more attractive than packaged goods. CPG companies and their investors saw an insatiable public appetite for branded staples. The firms' wellsprings of innovation stocked supermarket shelves with "new and improved" cleaning supplies, laundry detergents, cereals, and snacks. And if mature markets tired, executives saw countless virgin markets all around the world. From the heyday of Listerine's war against halitosis right up through "Coke Is It," an oasis of infinite growth beckoned at every horizon.
But that vision has long since faded. The last wave of growth in consumer products started when Eisenhower was president, and it broke with the Nixon administration. True CPG product innovation — the kind that brought individually wrapped cheese slices, detergents with bleach, and disposable diapers — all but ended in the 1960s. During the 1970s and 1980s, the consumer products industry was more show than go, producing brand extensions instead of new products. To be sure, sales kept pace with population growth. But otherwise, despite some high-profile technological innovations (the Swiffer mop, Sensor razor, and Kraft Lunchables portable convenience foods), sales for CPG companies have been like Lost Boys in Neverland — they just don't grow. (See Exhibit 1.)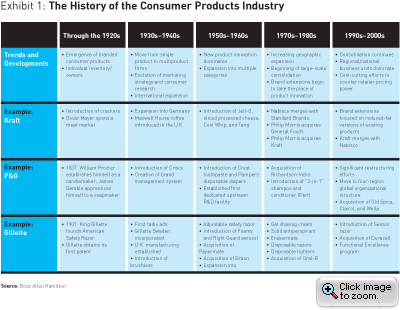 As both real innovation and real growth declined, the power of retailers rose. Close to their customers, and aided by new information technology and increased buying power, retailers were able to extract lower prices, stocking allowances, and other concessions from manufacturers. In response, many CPG companies indulged in one of two strategies that have proved costly and largely fruitless: consolidation and customer "connection."
Consolidation was the most popular reaction to the industry's changing fortunes. It was also the most hollow. It's a truism in the M&A business that mergers rarely deliver promised synergies, and the wave of consolidation that swept over the CPG industry during the 1980s and 1990s shows us why. Although the era's mergers — Nabisco with Standard Brands, Philip Morris with General Foods and Kraft, Kraft with Nabisco — brought together sales forces, the businesses generally retained autonomous marketing, supply chain, and R&D organizations.
As a consequence, the typical CPG company became a portfolio of unrelated businesses, each usually saddled with utterly different competitors, consumer bases, customer needs, infrastructures, and success factors. After a recent culling, for example, Unilever still has 400 "core" brands. When a product portfolio is broad and unwieldy, the gain in consolidation efficiencies usually is not sufficient to offset the loss in focus. Instead of innovating, consolidated CPG companies fall into the trap of "incrementalism" — each brand gets its extensions every year, and proliferating extensions clutter retailers' shelves. That makes it harder for any one brand to capture the fancy of the consumer, and renders it difficult for that brand's managers to learn about the characteristics their customers might have in common with those of another brand — or to find supply chain synergies, build effective joint sales forces, or innovate consistently and effectively.