For these reasons among others, consolidation has proved more of a drag than a draw on revenue growth, particularly for the largest consumer products companies. More focused players — such as Wrigley, which has specialized in chewing gum for 103 years — have consistently outperformed consolidated companies. In fact, Wrigley is the only major consumer products company to grow sustainably above the rate of inflation and population from 1993 to 2003 without taking on major acquisitions. Over the same period, Gillette acquired Duracell; Clorox acquired First Brands; Kimberly Clark acquired Scott; and Nestlé acquired Ralston Purina, Dreyer's, Ice Cream Partners, and Chef America. (See Exhibit 2.)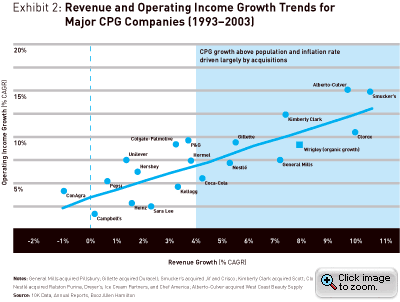 Customer Mythology
Perhaps it's more correct to say that proliferating extensions would clutter the shelves — if the CPG companies had the power to get their products on shelves. But that power isn't theirs anymore.
Until the 1990s, retailers were a weak and fragmented lot. Indeed, in some senses CPG consolidation was an attempt to exploit that weakness; it promised manufacturers economies of scale in sales and advertising, and gave big manufacturers an advantage for negotiating stocking and trade promotions with relatively small retailers.
But while consumer products companies were busy consolidating, such visionary retailers as Sam Walton and Sol Price were building a new industry. They used radical new supply chain efficiencies, pricing programs, and even store organization to create, respectively, Wal-Mart — now the biggest company in the world by revenue — and Price Club, the first warehouse club, eventually acquired by Costco.
Today, Wal-Mart accounts for approximately 28 percent of Dial's sales, about 25 percent of Hershey's, and roughly 18 percent of Procter & Gamble's — fairly typical proportions for consumer product manufacturers' sales through the retailing behemoth. Not even the biggest CPG company constitutes more than 5 percent of Wal-Mart's sales. Wal-Mart and the other value-focused discount and club channels are powerful enough to demand continual concessions — notably dramatic new supply chain efficiencies — in order to pass the savings on to consumers in the form of ever-lower prices.
Consumer goods companies responded with their second grand strategy of the 1990s: "Win with winning customers." This scheme concentrated a company's human, financial, and intellectual resources on the handful of retailers that appeared best able to gain it additional share.
Unfortunately, CPG companies have not won with their "winning customers" strategy.
The essential problem with the approach is that it brought little to the CPG companies beyond the immediate contribution to revenue growth. As the club, discount, and dollar store channel grew, such outlets indeed took more product, boosting consumer goods companies' sales figures even as their pricing power declined. But the CPG marketers rapidly became passive responders to the retailers' demands, and lost much more than their control over pricing: They squandered their linkages to, and ultimately the allegiance of, consumers.
Wal-Mart, for example, encourages its vendors to limit spending on advertising and promotion so that it can maintain lower prices — a tactic that threatens to consign brand loyalty (and brand premiums) to the dumpster of history. Innovation has also suffered; clubs are notorious for their narrow product selection and typically carry just one brand in a category, limiting a manufacturer's incentive to develop breakthrough products and major new revenue sources.
As CPG companies lose their historic connection to their audiences, retailers have stepped in to fill the vacuum. Retailers have clear strategies for attracting consumer traffic; increasingly, they are tailoring value propositions for their shopper segment, and forcing makers of consumer goods to follow. "Suppliers can benefit from working with Wal-Mart through increased efficiency, reducing promotional and distribution costs," a Morgan Stanley analysis concluded.