Private equity firms, interestingly, have been leaders in the art and science of brand resource allocation. They have perfected the practice of building, making money from, and selling "tail brands." A celebrated recent example is that of Pabst Blue Ribbon beer. Purchased by an investor who planned to cut costs and let the brand generate profits as it died, Pabst Blue Ribbon has become a favorite of alternative-lifestyle types, thanks to an innovative and low-budget marketing campaign. Pabst outsourced its brewing and invested modestly in marketing by sponsoring bicycle polo tournaments, screenings of skateboarding movies, indie rock concerts, and the like.
If venture capitalists can win fame managing not-for-turnaround, why not CPG marketing managers? Paradoxically, the continued decline of mass media channels opens new opportunities to squeeze growth and profits from previously neglected tail brands. With the cost of major network advertising going up even as audiences decline, companies are less likely to reflexively order a mass media campaign to support a flagging brand. Innovation in packaging, below-the-line marketing, and sales force management is increasingly likely to be the driver of a brand's revival.
To make resource allocation work in a diverse organization, the center must develop with the units a common understanding about the varied ways the different parts of the business have to contribute to growing the enterprise. Creating this growth imperative is, perhaps, the most important and most difficult task of the corporate core.
Consider the example of Procter & Gamble. During the late 1990s, margins were suffering on volume that was growing weakly. Franchise brands, even Tide detergent, were struggling as new product initiatives got a disproportionate share of marketing dollars. By mid-2000, the company was losing share in seven of its top nine categories, and had lowered earnings expectations four times in two quarters.
P&G recently completed a four-year restructuring program aimed at refocusing on the core — big brands, big customers, and big countries. Those changes, which included the divestiture of noncore businesses and the shift of resources to higher-growth businesses, happened only because the company's leadership determined to drive them. Organizationally, P&G has reasserted central control, establishing five global business units and downgrading the once-almighty country organizations to sales offices. Each of the global business units has a tightly focused portfolio, and both strategy and P&L responsibilities for its brands.
The new organizational strategy is not without risk. For example, Procter & Gamble took longer than it might have to react to the Argentine financial crisis because the country organization was weak. The company has also discovered that in emerging markets, a too-centralized approach limits success. P&G has modified its product range, channel, and pricing strategy in such situations. But the center still has much more power than it once did, while the global business units remain empowered, but bounded.
The P&G example shows that "recentralization" is less about command-and-control than about coordinate-and-communicate. The federalist model keeps at the core responsibilities for strategy and oversight — identifying the common themes that connect the business units and ensuring that this strategic agenda is driven across the business. Business units remain closest to the markets and create value through these relationships. This Model 2 organization bridges the chasm between the center that acts merely as a financial holding company, and the center that becomes operationally involved in the managing of the business units. (See Exhibit 3.)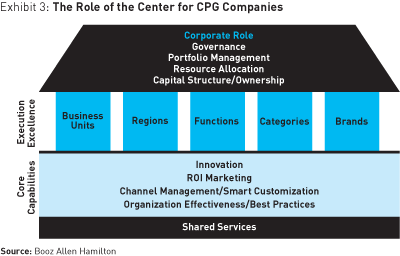 "Win with winning customers" has been the slogan of consumer products companies, but the reality for most players in the industry has been far different. Consolidation and diffusion of power through scores, even hundreds, of brand organizations have made it impossible for them to win. In order to innovate effectively and develop the must-have products that give them growth, they need to abandon their "states' rights" organizational model and adopt a recentralized federalist approach that shifts oversight to the center, even as it values insights at the units more than ever.