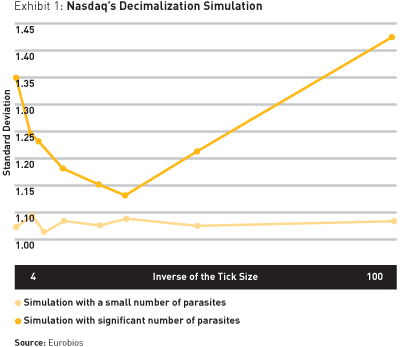 Penetrating the Confusion
In addition to helping companies resolve conflicts and improve processes, agent-based simulation also represents an engine for innovation and creativity, as leaders can discover and grab hold of opportunities that even the cleverest analyst would never see.
Two years ago, Post Danmark, the Danish postal service, undertook a project to improve the efficiency of its "last mile" postal delivery routes. The planning of postal delivery routes faces countless conflicting constraints involving the physical placement and capacity of roads, patterns of mail demand, union work rules, and delivery time requirements for different categories of mail, such as priority post.
Working with Eurobios, Post Danmark developed an agent simulation to search for better delivery routes, looking for solutions that would lower costs or speed delivery time. The model quickly turned up routes that reduced the distance postal workers had to travel on the existing routes by 15 to 20 percent. The solution even forced the postal service's planners to consider ideas they previously never would have entertained; for example, the simulation showed that optimum delivery routing required some paths to cross, an idea that human planners had dismissed as "obviously" unsuitable.
The model also helped settle another issue. Post Danmark offers priority postal delivery that is guaranteed to arrive before 10:00 a.m.; executives were toying with the idea of offering a 9:30 a.m. delivery to give customers better service. But to meet the earlier deadline, the model showed, Post Danmark would have had to add a significant number of extra postal carriers, and even then would likely have failed to meet its basic standards of performance. A change of one half-hour would seem minimal, yet the model revealed it would push the delivery into a complexity crisis, undermining its ability to cope.
Advanced management of strategies for adaptive customization — the generation of profitable growth via "smart customization" — lies at the high end of business complexity. But even at the low end, in day-to-day operations and the routine organization of procedure, simulations can show companies surprising ways to improve their performance. In some cases, the right steps may even seem obviously wrong. Consider the experience of Munich-based Infineon Technologies, a major manufacturer of semiconductor chips, which recently discovered a way to increase the overall throughput of its production line.
For years, operations managers had been striving for higher line speeds, trying to push more chips through faster. This seemed the only way forward. But a detailed simulation of the process suggested that slower line speeds might be better. At high speeds, the expensive devices for handling the "wafers" on which chips are manufactured were unable to orchestrate the complex movement of thousands of wafers while still respecting the tight tolerances involved. Costly stoppages were the result. Slower, it turned out, was actually faster, as the line ran more smoothly.
Simulations helped the same pharmaceutical company that cured its "selfish team" syndrome to discover further opportunities to improve operational efficiency. The firm had organized research and development by groups with expertise in 22 distinct "functions," from biochemistry to marketing, and each project drew on these functions when needed. But in moving past R&D and into the clinical trials required to bring a medical product to the market, all 22 functions had to be present at a series of meetings. Coordinating this activity so that each function could bring its expertise to bear on important strategic decisions led to serious delays. With the computer model, the company found that breaking trials into smaller and more manageable pieces would demand fewer such coordination activities and improve productivity, in principle, by as much as 80 percent. That was two years ago. Having followed the strategy, the company has in fact seen a 50 percent rise in productivity.