The guts of Copenhagen are laid out beside its harbor. There is the elegant Amalienborg Palace with its cobalt-uniformed grenadiers, and the Danish royal yacht, with its teak deck, riding at anchor before the headquarters of the Maersk shipping company. Then there's the old wharf — now renovated, in a space-age design, for use as offices — where sailing ships to Greenland and Iceland used to tie up. Hidden beyond this new wharf in stands of oak is the "free city" of Christiana, a hippie commune where the only abiding rules are no violence, no cars, and no sale of property. Leaning forward over the harbor railings, it is just possible to make out the windmills chopping out electricity on the pebble-gray Baltic.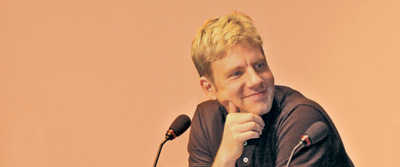 "Hey there!" salutes a blond man in a black polo shirt and jeans, who is sailing to his own office on a mountain bike, following a meeting with the prime minister. His breezy attitude belies Bjorn Lomborg's place on earth, both in Denmark and, indeed, around the world. For in this period of passionate debate about globalization's effect on the environment, the 39-year-old associate professor of statistics at Aarhus University, in the Danish provinces, has dared to argue that, to quote an old mantra, every day, in every way, we are getting better and better.
The doyen of a philosophy known as the New Optimism, Professor Lomborg says that air and water are getting cleaner, that endangered species and forests are holding their own, and, most controversially, that the risks associated with global warming are exaggerated. New Optimists, although acknowledging the persistent reality of extreme hardship and poverty for some, believe that more people than ever before, living in all parts of the globe, are becoming healthier, richer, and better educated; that the human race is living longer and more peaceably; that we're considerably freer to pursue our happiness; and that we are entertained throughout our mortal span. By extrapolating from past and present trends, Professor Lomborg and his acolytes posit that in another hundred years, the countries that once were called the underdeveloped "Third World" will be two to four times as rich as the developed countries are today.
Professor Lomborg was catapulted to fame — or infamy, depending on your point of view — in 2001 with the publication of his book The Skeptical Environmentalist: Measuring the Real State of the World (Cambridge University Press), a feisty tome that takes on scientists, environmentalists, politicians, and others in a doomsday frame of mind for their emotional responses to societal risks. The book lays out the central tenets of New Optimism, backing up its "quit singing the blues, it ain't so bad" message with table after table of statistics, drawn mostly from sources in national governments, United Nations agencies, and the Organisation for Economic Cooperation and Development.
The business and financial press certainly seem to recognize and appreciate Professor Lomborg and the New Optimist messages. Although he is better known in Europe than in the United States, all the major global business magazines — Business Week, Fortune, Forbes, and The Economist — have offered Professor Lomborg plaudits. In 2004, Time magazine named him one of the 100 most influential people on the planet. But to his critics — equally global in presence and voice — he is roughly the equivalent of an environmental Antichrist. Rajendra Pachauri, the chairman of the United Nations' Intergovernmental Panel on Climate Change (IPCC) said in an interview with Jyllandsposten, a leading Danish newspaper: "What is the difference between Bjorn Lomborg's view of humanity and Hitler's? You cannot treat people like cattle. You must respect the diversity of cultures on earth. If you were to accept Bjorn Lomborg's way of thinking, then maybe what Hitler did was the right thing."