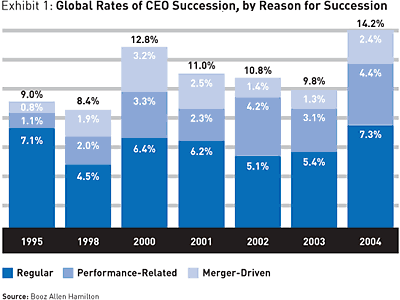 The results of our survey are highly relevant to the continuing debate about corporate governance. Notwithstanding such visible scandal-driven departures as those of Calisto Tanzi from Parmalat and Franklin Raines from Fannie Mae, the compliance problems and regulatory investigations of the past few years have directly forced comparatively few CEO resignations. Indirectly, however, ethical problems have had an effect. Shareholders are not just intolerant of sustained subpar investor returns. They are also increasingly intolerant of accounting shenanigans that disguise poor performance and artificially inflate profits. Legislators, regulators, and boards of directors around the world are helping shareholders root out questionable practices within companies, further increasing demands on company leaders.
Global Divergence
The shareholder activism we see reflected in CEO succession data is global in scope: Both total turnover and forced turnover are now greater in Europe and Asia than in North America. But the activism has very different implications for CEO turnover in each region of the world, reflecting differences in governance structures, history, and economics. (See Exhibit 2.)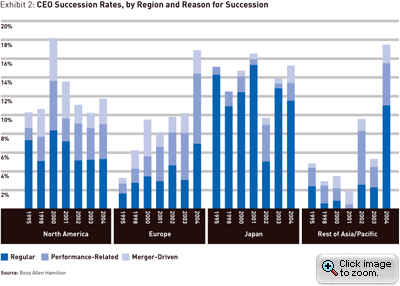 Performance-related turnover of European CEOs reached record intensity in 2004, the highest level of forced turnovers in any region in any of the years we have studied. Total CEO turnover in Europe and Japan — 16.8 and 15.6 percent, respectively — also set new highs in 2004, nearly equaling the extraordinary 18 percent rate of turnover in North America following the dot-com crash in 2000. Just a few years ago, U.S. companies were the most likely to summarily fire their chief executive for poor performance. But over the last two years, European companies have begun to dismiss CEOs at a significantly higher rate: In 2004, 42 percent of CEO successions at European companies were related to performance, compared with 31 percent in the U.S. Turnover in Germany reached the highest levels we've seen in any major economy in any year of our survey, except for the U.K in 2000. Just a few examples: Ulrich Schumacher, founding chief executive of the Munich semiconductor manufacturer Infineon Technologies, was dismissed after five years at the helm; Wolfgang Urban resigned from retailer Karstadt Quelle after a three-year tenure; and Udo Stark stepped down after less than two years as CEO of the engineering corporation MG Technologies. (See Exhibit 3.)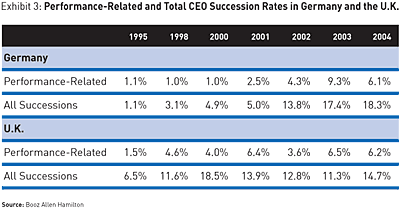 Recent governance reforms instituted in many European countries (such as the Tabaksblat Commission code in the Netherlands and the Higgs Report recommendations in the U.K.) offer part of the explanation. They have led many boards to become more proactive about risk management, and therefore quicker to depose a CEO whom they perceive as a potential liability. Shareholders are joining with supervisory boards, unions, and politicians in subjecting CEOs to far greater scrutiny than they received a few years ago.
European CEOs also face such challenges as the slow growth rate of the major European economies, their international exposure, and the limited opportunity in Europe to quickly drive up share prices through layoffs and restructuring. When global capital flows bump up against local or multiregional operations, it appears that the chief executive increasingly pays the price. Our colleague Klaus-Peter Gushurst, managing partner of Booz Allen Hamilton for Germany, suggests one other factor: a new generation of executives, in their 40s and 50s, coming to the fore with less support from their boards than their predecessors had.
The Asia/Pacific region (excluding Japan) exhibits even greater CEO turnover than Europe, although involuntary turnover is lower. Australia, which represents 18 percent of the large companies in the region, experienced exceptionally high turnover — 18.3 percent. This figure included many forced successions (36 percent of all succession events) and the retirement of two long-reigning CEOs, at Mirvac Groups (Bob Hamilton, 32 years) and Fosters (Ted Kunkel, 12 years).