One effective benchmark for CEO turnover is tenure — the amount of time that a departing CEO served in that position. Mean tenure varied a great deal by region in 2004, from less than five years in non-Japanese Asia to almost nine years in North America. (See Exhibit 4.) What then constitutes an appropriate CEO tenure, indicating a generally healthy economy?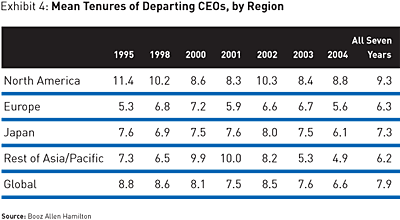 Globally, in 2004, underperforming CEOs were removed after an average of 4.5 years. In our judgment, this is an appropriate amount of time. In today's rapidly changing economy, successful strategies have to produce positive results within five years. A 15-year vision is irrelevant. On the other hand, research tells us that CEOs need three to five years to develop their strategies and see them through to their results. CEOs on a short leash tend to become more risk averse and may be reluctant to embark on riskier projects, such as big investments or M&A activity. This may actually hurt sustainable corporate value growth.
In Europe in particular, the pendulum may already have swung too far toward the short term. In 2004, CEOs removed for poor performance were in office for a median tenure of two and a half years, an astonishingly and counterproductively brief period of time. Many of the fundamental changes needed to make companies competitive require more than two years to take effect, especially given the region's tradition of cooperative labor relations and the high social costs associated with transformative change. Europe may be entering a cycle in which transformative change is required but the threat of rapid dismissal focuses existing CEOs on short-term performance, preventing them from completing (or even launching) the transformations that many European companies need.
In contrast, by global standards, CEO turnover in North America is too low. Boards in North America are the slowest to remove underperforming CEOs: The 5.2 years the average underperforming American chief gets is significantly longer than the span in any other region of the world. The rate of performance-related successions in North America is also low: 3.6 percent of American CEOs were fired in 2004, compared with the global average of 4.4 percent. We estimate that the 9.5 percent of North American CEOs departing between 2000 and 2004 whose companies underperformed the stock market should have been removed much more quickly by their boards; the Michael Eisner soap opera is by no means an isolated case. Our estimate reflects CEOs who underperformed the stock market not only during their full tenure, but also during the second half of their tenure, and whose total tenure exceeded the global average. Shareholders would have been better off if these CEOs had been removed at the midpoint of their tenure.
The principal driver of the long mean North American tenure is the extraordinary proportion of CEOs who stay in office at least 20 years — three times as many long-service CEOs as in Europe and nearly twice as many as in Japan and the rest of the world. This phenomenon reflects, in part, the strengths of the North American economy: Half the long-serving CEOs are founding entrepreneurs in the mold of Dell Inc.'s Michael Dell, who relinquished the chief's job to Kevin Rollins in 2004 after two decades; another quarter are visionary CEOs who transformed and renewed major corporations, such as August Busch III, who succeeded his father as head of Anheuser Busch Companies 30 years ago.
Long-serving North American CEOs generally deliver extraordinary performance: Seventy-eight percent of them delivered above-average returns to investors over their full tenure. However, only two-thirds also delivered superior returns during the last half of their tenure.