Corporate Strength
The questions that readers asked most frequently about previous surveys were: How much does CEO performance depend on the quality of the company? Are some companies so weak that no CEO can succeed? Are other companies so strong that most CEOs would be effective? To answer these questions, we expanded our data collection this year to include the performance of each company — the return to investors relative to the average return of the stock market in that region — before the CEO took office.
We found that a CEO's performance in office is in fact influenced by the company's previous performance. When a company has been doing poorly, a new CEO tends to perform very well in the first two years and badly in the last year. When a company has been performing well, a new CEO starts weak but ends stronger.
Our results are quite different from what our readers told us to expect, which was that CEOs generally perform better in companies that are doing well, especially in companies that are already great. Our conclusion results from our equating performance with returns to investors. Had we defined performance in terms of financial-statement measures, such as return on equity or cash-flow return on investment, we would undoubtedly have found a great deal of stickiness: A CEO's performance would be closely related to the company's prior performance. Returns to investors, however, reflect changes in a company's financial performance, not the level of its performance.
We focus on returns to investors rather than financial-statement measures of performance because returns are the way the company's owners — its investors — measure performance. Since boards of directors represent the company's owners, returns to investors should be closely related to CEO tenure and involuntary departures.
Our results indicate that:
• CEOs are slightly more successful at improving the performance of poorly performing companies — whether by restructuring or by imposing greater executional discipline — than they are at improving the performance of companies that already perform well.
• Rapid improvement in financial performance is easiest to achieve in poorly performing companies.
• In poorly performing companies, it's difficult to change the culture and sustain that higher level of financial performance. Performance often deteriorates, reverting to its previous level.
We also found that CEOs are more likely to be forced out of office at companies that had previously performed well than at companies that had been performing poorly. We hypothesize that in successful companies, the board of directors has very high expectations for the performance of a new CEO — and if the expectations aren't met, the CEO is asked to leave. The lower expectations in a company that has been performing poorly are much easier for a new CEO to meet or exceed.
Insider Vs. Outsider
Over their entire tenures, CEOs appointed from the inside tend to outperform outsiders. Globally, over the seven years we have studied, insiders delivered returns to shareholders that were 1.9 percentage points per year higher than those delivered by outsiders. In 2004, insider CEOs in Europe outperformed outsider CEOs by 6.0 percentage points. In North America, however, outsiders outperformed insiders in 2004 for the first time since 1995. (See Exhibit 8.)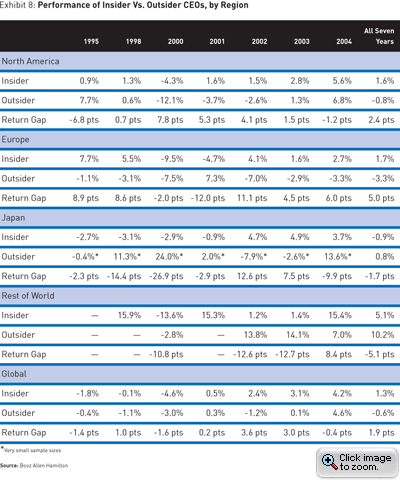 All CEOs experience a second-semester slump, but the depression is more pronounced among outsiders. For all seven years of our research, outsider CEOs produced returns 5.1 points higher than insiders during the first half of their tenures, but in the second half, insiders outperformed outsiders by 4.7 points. (See Exhibit 9.)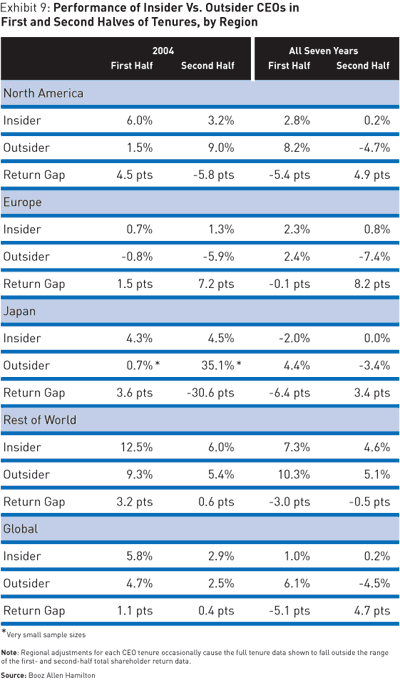 It is possible that outsiders are closing the gap, at least in North America, where in 2004, for the second year in a row, outsiders outperformed insiders in the second half of their tenures (by 5.8 points). European insiders leaving office in 2004 outperformed outsiders in both the first and second halves of their tenures, as they have for most of the other succession years tracked. For all seven years studied, European insiders had about the same performance as outsiders in the first half of their tenures, but outperformed outsiders by 8.2 points in the second half.