Chief executives around the world today face a paradox in balancing the short-term results needed to remain in office with the long-term imperatives of strategy. "Given the realities of the markets," says Reggie Van Lee, a Booz Allen senior vice president in New York, "the challenge for CEOs is in creating an agenda that will put the company on the right strategic path, but that also produces short-term wins that don't hurt the company in the long run."
That, of course, is easier said than done. What is crucial is for boards of directors, shareholders, regulators, and other outside constituencies interested in the future of market capitalism to base their conclusions and recommendations on data rather than suppositions or theory. If the world has indeed passed a tipping point, and the nature of CEO authority has changed, then the primary challenges for CEOs, boards, and governance reformers alike remain as we have identified them in past studies: to pay significantly more attention to the internal company development of future generations of corporate leaders, and to better align short-term imperatives with long-term performance for shareholders.

Reprint No. 05204
Tough Industrials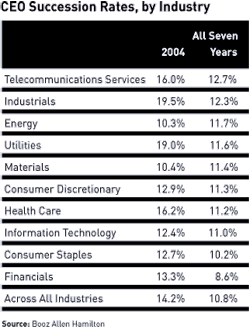 Industrial companies and utilities had the highest succession rates among the top 2,500 companies in 2004 (19.5 percent and 19 percent, respectively), followed by health care (16.2 percent) and telecommunications services (16 percent). The succession rates for industrials and utilities were the highest for these industries since we began our study. Together they make up only 19 percent of all companies, yet they accounted for 25 percent of all 2004 succession events — meaning that CEOs at industrials and utilities were 32 percent more likely to leave office in 2004. For the full seven years of data, telecommunications services, industrials, energy companies, and utilities had the highest succession rates; financial services had the lowest.
CEO Demographics: Young and Younger
The chief executive "Class of 2004" was the youngest of any we've seen since the study's inception: The average age at departure was 57.8 — a full year younger than outgoing CEOs in 2003. European and Asian (excluding Japan) CEOs were the youngest, with average ages of 54.1 and 55.8, respectively. Japan's CEOs remain the elder statesmen, with the average age at succession rising 0.8 years over 2003, to 64.6. North American CEOs are in the middle: The average age was 58.1.
As seen in previous years, the average age of CEOs forced from office is lower than the age of those serving out their terms, and this was true across all regions. Globally, the average age of CEOs forced out in 2004 was 55, compared with 60.5 for those with regular successions. This "age gap" of 5.5 years is smaller than in any of the other six years reviewed.
In 2004, we also observed that younger CEOs — age 55 or younger — are choosing to retire. In North America, where this phenomenon is most prevalent, notable examples include Michael Dell (Dell Inc.), Tom Siebel (Siebel Systems Inc.), and Ken Freeman (Quest Diagnostics Inc.).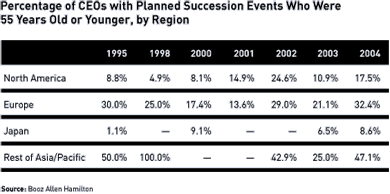 Methodology
This study required the identification of the world's 2,500 largest public companies, defined by their market capitalization on January 1, 2004. We use market capitalization rather than revenues because of the different ways financial companies recognize and account for revenues. Thomson Financial Datastream provided the market capitalization of the top companies in each global region on December 31, 2003. For analytical purposes, we divide the global market into six regions: North America (including the U.S. and Canada), Europe, Japan, Rest of Asia/Pacific (including Australia and New Zealand), Latin America (including Mexico), and Middle East/Africa.
To identify the companies among the top 2,500 that had experienced a chief executive succession event, we used a variety of printed and electronic sources, including Corporate Yellow Book and Financial Yellow Book (both published by Leadership Directories); Fortune; the Financial Times; the Wall Street Journal; and several Web sites containing information on CEO changes (www.ceogo.com, www.executiveselect.com, and www.hoovers.com). Additionally, we conducted electronic searches using Factiva for any announcements of retirements or new appointments of chief executives, presidents, managing directors, and chairmen; results of this search were compared with the list of top 2,500 companies. For firms that had been acquired or merged in 2004, we used Bloomberg. Finally, we consulted the marketing personnel of Booz Allen Hamilton offices outside the United States to add any CEO changes in their regions that had not been identified.
Each company that appeared to have experienced a CEO change was then investigated for confirmation that a change had occurred in 2004 and for identification of the outgoing executive: name; title(s) upon accession and succession; starting and ending dates of tenure as chief executive; age; education; whether he or she was an insider or outsider immediately prior to the start of tenure; whether he or she had served as a CEO of a public company elsewhere prior to this tenure; whether the CEO had been chairman and, if so, for how long; identity of the chairman at the start of the CEO's tenure (if different) and whether that individual had been the CEO of the company; and the true reason for the succession event. Company-provided information was acceptable for each of these data elements except the reason for the succession; an outside press report was necessary to confirm the true reason for an executive's departure. We used a variety of online sources to collect this information on each CEO's tenure, including company Web sites, the Factiva database, www.transnationale.org, and proxy statements available on the U.S. Securities and Exchange Commission's EDGAR database (for U.S.-traded securities). In some cases, when the online sources were unproductive, we contacted the individual companies by e-mail and telephone to confirm the tenure information. We also enlisted the assistance of Booz Allen offices worldwide as part of this effort to learn the reasons for specific CEO changes in their regions.
We then calculated average growth rates (AGRs) of total shareholder returns (TSRs), including the reinvestment of dividends, if any, for each executive's tenure. We did this for total tenure, first and second halves, first two years, and final year. To assess the company's health prior to each CEO's tenure, we collected TSRs for the five years prior to each CEO's start date and calculated AGRs. TSR data was provided by Thomson Financial Datastream. We calculated regionally adjusted TSR AGRs by subtracting the Morgan Stanley regional shareholder return indices from the company's performance during the periods in question.