The book provides many valuable examples of the experiments, innovations, and market success stories of companies that are building businesses to address the specific needs and desires of people living in the poorest nations. His stories and insights are especially strong when he explains what multinational companies do to become effective in these markets. For example, Unilever's Indian subsidiary, Hindustan Lever Limited — which increased its revenues and profits by 20 and 25 percent per year, respectively, between 1995 and 2000 — requires all employees in India to spend six weeks living in rural villages to get information directly from consumers, while the company develops new products for them and works with local producers to source local materials. Unilever also built an R&D center in rural India. These efforts he describes as part of a strategy to become "indigenous."
Even more valuable to the strategy+business reader is the void this book fills in leveraging familiar management concepts, frameworks, and language to connect business strategy to sustainability strategies. Professor Hart devotes an entire chapter to the subject, citing Clayton Christensen's work on disruptive innovation several times, and presenting a useful diagnostic approach for managing today's businesses and creating tomorrow's opportunities. One chapter, "The Great Leap Downward," shows why the poorest nations can be viewed as potentially lucrative markets in which to incubate "clean" technologies. For instance, Professor Hart cites the development of fuel-efficient cars for use in heavily polluted countries such as China and India as a prime opportunity that auto manufacturers have so far missed.
Professor Hart's erstwhile writing partner and kindred spirit, C.K. Prahalad, has likewise written a book filled with examples that show how multinational corporations and domestic businesses can successfully develop product for, and market to, the world's poor, and thus profit from contributing to the eradication of poverty. While acknowledging that the individual purchasing power of one poor person is minuscule, Professor Prahalad points out that in aggregate the world's 4 billion poorest people control trillions in annual expenditures.
An important message in The Fortune at the Bottom of the Pyramid is that low-income markets are highly diverse, echoing Professor Sachs's essential insight. The days of one-size-fits-all marketing of branded products such as Coca-Cola or Wrigley's gum are almost entirely gone. Like Stuart Hart, C.K. Prahalad argues that it is necessary to perform in-depth marketing research in poor nations, and to design products specially suited to the unique demands of each local market. Also using the Unilever example, he shows how the company has succeeded in India with a unique village-by-village marketing campaign demonstrating the use of soap to combat disease. Unilever and a variety of other companies employ similar multilevel marketing techniques and novel distribution networks, led by village women who sell everything from savings plans to cell phone service to iodized salt.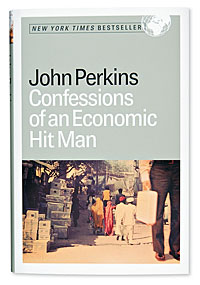 Trysts and Teahouses
John Perkins's surprise bestseller, Confessions of an Economic Hit Man (Berrett-Koehler, 2004), provides an offbeat look at globalization through a personal narrative. Mr. Perkins chronicles his experience in the 1970s and 1980s as chief economist for the engineering firm Charles T. Main. Along with two other U.S.-based companies, Bechtel and Fluor, Main brought dams, electricity, and roads to the developing world. Mr. Perkins lived a high-flying life as an international executive, jetting from country to country, meeting with presidents of emerging nations, and staying in exclusive, gated hotels. This book was inspired, he says, by the death under mysterious circumstances of two friends, Panamanian president Omar Torrijos and Ecuadorian president Jaime Roldos Aguilera. It argues that the U.S. government, working sympathetically with U.S. firms, promoted capital projects that generated business for American companies while encumbering developing countries with crushing debt. A benefit for the U.S. government, he says, was that the resulting debt bound these countries to the West.