She realized her problem two years into the top job, after a taxi in which she was riding to an appointment was struck by an oncoming car. "The accident should have been scary enough," she relates, but what really scared her was her behavior that day. Lying on an emergency room stretcher with two broken ribs, unable to breathe without aching, she went "ballistic" when her husband casually told her that an assistant had called the client to tell them she would not make it. "What do you mean, 'She said I could not make it'?" Ms. Quinlan recalls exclaiming. "I never miss a client meeting."
It wasn't until more than a year later, however, that a concerned friend suggested a sabbatical. When Ms. Quinlan finally took some time off, she had no particular plan in mind. "I sat there in the sunshine and asked myself, 'What do I want to do today?' I asked myself that every day for five weeks." Her happiest moments during those five weeks were the "simplest ones," she writes — eating breakfast in a neighborhood diner, taking Latin dancing lessons in a studio, ice skating in the middle of the afternoon for the fun of it. She saw a movie alone for the first time in years. She took a kickboxing class with her niece.
Time Off for Good Behavior offers a heavy dose of female honesty for those male-dominated corporations that want to know why their highest-performing women are leaving, and how they can get them to stay or come back. "Self-directed and company-endorsed time off is a new concept for companies and for women," Ms. Quinlan says. Sometimes, however, there is nothing a company can do. Writes Ms. Quinlan: "A good friend of mine said that when it comes time to leave a job, it's not that you are wrong or that the company is wrong. For many years, your goals were aligned. But at some point, your paths diverge. You each move on as individual entities, glad for the time you had together." Indeed, when Ms. Quinlan returned to her post at Ayer in New York, she knew immediately she did not want to continue as its CEO. Within a few weeks, she resigned to start the company that became Just Ask a Woman. By "a stroke of luck" (and no doubt because of her talent, as well), her boss, Roy Bostock, who was chairman of the MacManus Group, the global communications holding company that owned Ayer, saw her idea as a business opportunity and helped her fund it.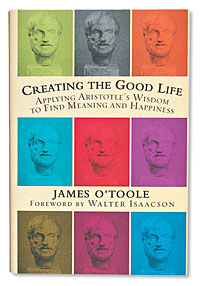 Consolation in Philosophy
James O'Toole is a highly regarded author of books on leadership and a longtime teacher and researcher at the University of Southern California's Center for Effective Organizations and at the Aspen Institute. Yet he confesses in Creating the Good Life that he hit 55 feeling empty. "Like many of my generation, men and women born in the years immediately following WWII," he writes, "I found myself in my fifties full of questions and doubts. I didn't feel I had accomplished enough in my first five decades, and wasn't sure how to make the best of the time remaining to me."
Seeking guidance, he delved into Aristotle's insights on "planning a life," and the result is an elegant, original book that anyone, but especially executives, could benefit from reading. It is my choice as the year's best book on work and life. "Happiness, in the Aristotelian view, demonstrates what good people do; it is the sum of the best activities of which human beings are capable," explains Professor O'Toole. (For more on Aristotle, see "The Realist's Guide to Moral Purpose," by Nikos Mourkogiannis, s+b, Winter 2005.) Some of the hottest ideas in economics and psychology today validate this thinking. For example, psychologist Mihaly Csikszentmihalyi describes how people experience "flow" or are "in the zone" when they're doing what they love to do. "I know I have been in the zone when I look at the clock and discover I have been at work for many hours," writes Professor O'Toole, who says he experienced flow often while writing his book.