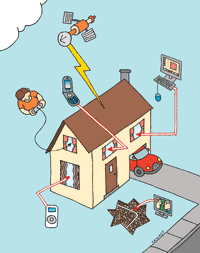 It was May 2002, just before a breakfast seminar for media and marketing leaders at the Museum of Television & Radio in New York, the preeminent institution devoted to the history of broadcasting. And this history was weighing heavily on attendees' minds, or so it seemed as we chatted with other arriving guests. The major U.S. television broadcast networks were about to open their "upfront market," the concentrated period when they negotiate prices and sell the bulk of their advertising inventory for the fall season. Although the networks had experienced two decades of steady erosion in viewership, prices for advertising had risen almost unabated. Trade publications that week were predicting yet another increase. Talking in a little cluster of executives and consultants, we wondered how this could be.

"Ask him," said one member of our group, pointing to the chief executive of a major television company, who had just sidled up and was listening, with some amusement, to our conversation.

"It's the simple law of supply and demand," the CEO said with a confident shrug. "Major marketers need to reach mass audiences, and we are the only game in town. They have the demand. We have the supply. And as with any product, as that supply gets harder to find, you can charge more for it."

His complacency was understandable. Every year, pundits predicted dramatic change: the convergence of digital and broadcast media, the erosion of mass audiences, and the restructuring of the media and advertising industries. Every year, leading industry practices remained static, even stagnant, and the overall pattern of marketing spend barely changed.

But the long-predicted future has finally arrived. After a decade of denial, both mainstream media companies and major marketers are now accepting the facts: The methods by which consumers absorb information and entertainment — and the ways they perceive, retain, and engage with brands and brand messages — have changed irrevocably. As marketers take notice, their decisions are reshaping the media environment. Magazines are losing advertising to the Web (with total ad revenues declining about 2 percent per year since 1998); radio broadcasters are losing listeners, talent, and revenues to satellite upstarts and iPod playlists. Television networks also see the writing on the wall, as the penetration of digital television heralds the rise of video-on-demand, video downloads, interactive game networks, Internet TV, and other broadcast- and cable-busting enterprises. Broadcast advertising revenues declined in the upfront markets of both 2004 and 2005, according to the Jack Myers Media Business Report — the first-ever decrease in two consecutive years. In spring 2006, pundits predicted a third straight year of upfront price reductions. And the broadcasting CEO who seemed so confident about being the "only game in town"? He no longer has that job.

Does that mean gloom and doom for the rest of us? Hardly. These can be glorious times for media companies and marketers that are capable of change. And they know it. Interviews with more than 50 senior marketers and media executives, ongoing research conducted by Booz Allen Hamilton and the Association of National Advertisers (ANA); and analysis of data from a score of research services — all gathered from 2005 through early 2006 — support the observation that the prevailing attitudes among marketers have shifted. Most have come to accept the signal lesson of what is coming to be called the "nonlinear and engagement-focused" media environment: Marketing communications must be reborn as a consumer-centered craft.

The renaissance is already taking place at leading companies. Some of them, in industries that had previously premised their growth on relationships, regulatory protection, or engineering excellence, are now adopting a marketing mind-set and rethinking the assets they need to establish brand differentiation. The central catalyst in this transformation is an emerging class of highly capable chief marketing officers — "super-CMOs" — who are building new integrated marketing models that are more focused on return on investment (ROI), more multiplatform, and more targeted than ever before. Super-CMOs like Mary Minnick at Coca-Cola and Jim Stengel of Procter & Gamble have become architects of their companies' growth agendas, taking into their portfolios such functions as innovation.