And what of the laggards? To be sure, there are still plenty of them. Today, most major marketers allocate only between 4 and 10 percent of their measured media spending to online advertising. But the reasons for this are generally institutional, not strategic. Many companies' media budgets remain bogged down in a TV-centric model. These companies' marketing departments are hampered by organizational inertia, uneven levels of consumer insight, spotty effectiveness metrics, and the continued dominance of television in their strategies, incentives, processes, and promotional calendars.
Consumer behavior has leaped ahead of the technological tortoises. Consider the automotive category. Some automakers can now correlate consumer usage of configuration sites — Web pages that allow buyers to experiment with color and trim packages — with subsequent orders. This allows automakers to guide shipments more accurately and reduce their own and their dealers' inventory costs. (See "Building a Better Matchmaker," by Maarten Jager and Steven Wheeler, s+b, Winter 2005.) Yet online spending barely registers as part of many automotive advertisers' total budgets. (See Exhibit 1.) This is not because automakers prefer the status quo; it's simply that the change requires alliances between dealers and manufacturers, and among their respective marketing, sales, and IT organizations — departments that are not used to moving quickly or working closely together.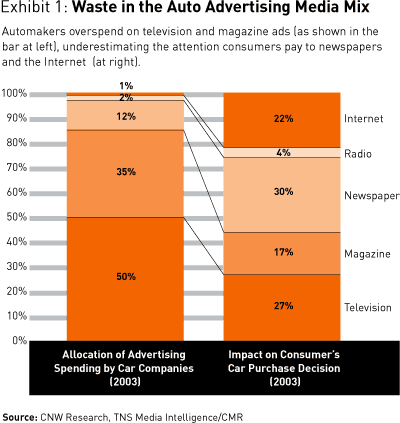 Also holding back the laggards: They have difficulty seeing beyond the compelling environment that television had made available for marketers. Marketing metrics and agency economics are built around TV; TV gets marketers' retail and trade partners excited; and creative people have gotten used to the format of the 30-second spot as a vehicle for communicating brand value and emotional appeal. But as broadband penetration increases, so do the opportunities to exploit video entertainment and advertising, in new interactive contexts. Online advertising already appeals to marketers simply because the gap between an advertising message and a consumer action (e.g., a registration, a request for information, or even a sale) is so much narrower online than in other media. Combine that benefit with "higher quality" advertising inventory (that is, it allows users to click through for more information or direct sales) and it's easy to see why blue-chip, brand-oriented advertisers are flocking online. (See Exhibit 2.)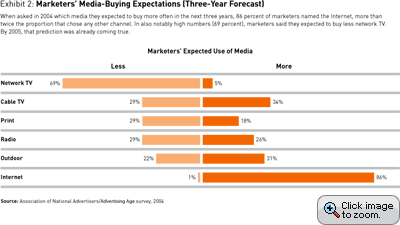 Storefronts in Toontown
It is striking to see how consistently conventional marketing wisdom has denigrated the idea that consumers want more control over, and interaction with, their information and entertainment environment, and that they will pay more for that. In particular, after several high-profile interactive television experiments failed during the 1990s, chastened revolutionaries returned to the view of television vaguely derived from Marshall McLuhan's assessment of it: a "cold" medium for "passive viewers" who preferred "least objectionable programming" (a phrase coined by NBC programmer Paul Klein more than three decades ago). Television, many believed, would remain forever distinct, in design, use, and location, from the computer.
But passivity has proven to be a myth, and convergence, despite the taint the word gained after the dot-com collapse, has proven a reality. Devices that combine digital distribution, content management, and playback have already transformed music consumption. At 1.25 million downloads a day from Apple's iTunes service alone, the digital download music market is steadily growing, while annual sales of compact discs fell more than 7 percent in 2005 (according to Neilsen SoundScan). With Apple, Google, and a burgeoning number of Web sites offering video downloads — both repurposed inventory and original material — the TV industry is close to the day when each portable video player is the front end of a network tailored for one individual.
Although many longtime television executives are watching the erosion of traditional channel-centricity with trepidation, others relish the opportunities. Comcast, the largest cable television company in the U.S., says 65 percent of its customers with access to video-on-demand use it, with new users accessing it on average 23 times a month. Opportunities are also arising outside the television sector. Apple has sold more than 8 million video downloads since it began offering them in October 2005. Time Warner's Time Inc. publishing division recently introduced a multimedia Web site aimed at young men, replete with original on-demand video.