Further eroding the boundaries between the networks of old and networks of now are online multiplayer games. In the fantasy game World of Warcraft, founded in 1994, players join one of two battling hordes in a world of humans and semihumans, with highly realistic visuals and (as in most role-playing games) rigorously defined rules that govern each character's ability to communicate, gain skills, fight, purchase supplies, and learn. The game had 5.5 million paying subscribers as of January 2006, and annual revenues of about $700 million. Globally, about 10 million people held a subscription to multiplayer online games last year, according to the New York Times.
Another counter to the myth of passivity has been the growth of media environments created by consumers. As the cost of crafting and distributing creative content trends toward zero, adults and children alike are fashioning podcasts, playlists, online periodicals, and even original music recordings and films. Eight million Americans maintain their own blogs. The social networking Web site MySpace, on which men, women, and children post about themselves and their interests, has more than 50 million registered users and was adding 4 million new members a month at the end of last year. The shopping site eBay — a venue of consumer-created content with an almost unimaginable variety of sales information — has 79 million registered users; eBay's automotive section alone attracts 10 million unique visitors per month, with each visitor spending an average of 45 minutes on the site. And YouTube, a site launched in February 2005 for member-uploaded video clips, already streams more video than either Google or Yahoo; it is becoming the premier video site for those in younger demographics.
Consumer time spent with such "engagement media" will increase along with the growing popularity of new delivery methods and devices. (See Exhibit 3.) The online gaming market will almost certainly expand as sales of large-screen high-definition television monitors, interactive game consoles such as Xbox and PlayStation, and digital home media centers increase. The ubiquity of mobile telephones is already prompting the evolution of a mobile social networking marketplace, with applications that include "shadow environments" (in which online participants can attach publicly accessible "sticky note" addenda to Web sites and other virtual spaces) and multiplayer mobile gaming.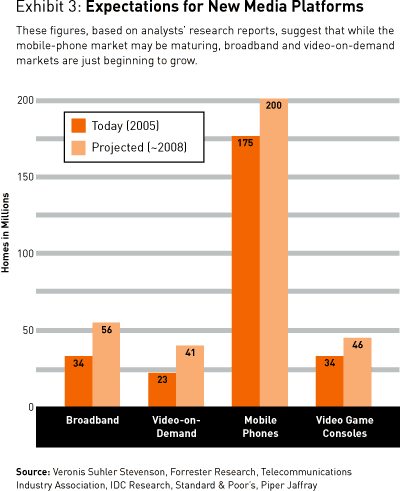 Advertising has already begun to follow interaction. Our own interviews, in addition to confirming research from Veronis Suhler Stevenson, Piper Jaffray, and the Yankee Group, lead us to estimate that the video game advertising market will grow from $30 million in 2004 to $750 million in 2008, and perhaps much more. So far, companies like RuneScape and Electronic Arts have barely begun to develop their competence as advertising platforms; a few startups like the Massive video game network are experimenting with interactive placements within the games themselves. Consumers report that they like the authenticity that real-world advertising lends to a fictional game environment. On a 50-inch plasma screen with high-definition sound, spending time online will be akin to wandering in "Toontown," the madcap cartoon environment from the film Who Framed Roger Rabbit? Walk down the street, and a streetlamp may spring to life, address you by name, and invite you to a sale at the animated storefront next door.
Consumers and the advertiser marketplace also confer increasing value on online communications vehicles because they make it easy for people to make connections and take action. Interactive appeals that invite audiences to vote via mobile phone, register an e-mail address at a company Web site, or test-drive automobiles at a promotional event can create opportunities to forge one-to-one relationships, thus creating value that can be monetized well beyond the initial impression. That's meaningful currency to marketers. The insights gained from these "two-way" solutions inform innovation priorities, offer real-time feedback on marketing programs, and, in some cases, even provide predictive input on product and service demand. Marketing can increasingly send data upstream to inform design and supply chain decisions for new products. This saves consumer goods companies significant expense; it also changes the nature of marketing at these companies and raises the profile of the marketing professionals who understand the change.