Accountable Revolutionaries
The growth of marketing communications during the 20th century was fertilized by a paradox. Beyond local experiments in retail price communications, for most of the period it was difficult to know how, if at all, advertising moved markets. "Does advertising increase demand for a given firm's products?" asked Harvard Business School Professor Neil Borden in his classic 1942 text, The Economic Effects of Advertising. "Indeterminate," he concluded. Does it preclude price competition? "In no case," he wrote.
Advertising thus grew as a faith-based initiative, with ad agencies and clients alike believing it worked best when it raised awareness of brands and goods across a large swath of a target population, with success calculated using various survey-based input measures, such as page impressions; cost-per-thousand viewers or readers; and gross ratings points (GRPs), an indicator of audience size. Volume was the highest value. Rosser Reeves, head of the Ted Bates ad agency, voice the prevailing view this way in 1960: "If 90 percent [of the audience] do not remember it, the story is not worn out."
With slowing economic growth during the 1970s, marketers started to reassess their laissez-faire attitude about measuring marketing performance. But it wasn't until the 1990s and the rise of the Internet that the accountability revolution commenced. It was still in its infancy eight years ago, when Randall Rothenberg, one of the authors of this article, wrote in Wired magazine:
The new media technologies, by drastically reducing production and distribution costs and making possible almost continual and instantaneous refinements in message, promise to increase the efficiency of accountable advertising.… The spurious distinction between image advertising and retail advertising will erode, then disappear, as each advertisement, every product placement, all editorial can be tied to transactions.
Today, the accountability revolution is approaching its second stage. Marketers are more explicitly moving their strategy and spending decisions down the "purchase funnel" of consumer behavior. (See Exhibit 4.) They are no longer satisfied with media placements that merely build "top-of-the-funnel" responses from consumers (awareness and consideration). They favor media that can substantiate an ad's influence on customer preference, purchase, and retention. This means a growing penchant for online media, especially those that can deliver a reliable indication of customer response.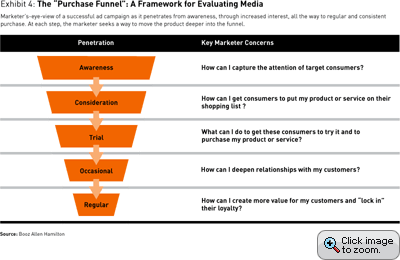 Media companies are increasingly asked to go beyond reach and frequency metrics like GRPs to more tangible and quantifiable evidence of return on marketing investment. No longer do marketers ask, "What is the cost of the GRPs I am buying?" Instead, they ask, "How many toll-free calls or online registrations did that ad generate, and how many were converted into sales?" Then, as they become more sophisticated at tracking the relationship between advertising and sales, they allocate their media buys on the basis of how well their offerings drive consumers through the purchase funnel.
To gain the requisite statistics, marketers don't simply go online; they enter their customers' worlds. P&G's Tremor, an in-house unit that fosters brand trial and consideration via a network of some 280,000 trend-setting teens, has proven so successful that P&G now offers its services to noncompeting marketers, including Coca-Cola and Toyota. These interactive communities of "alpha consumers" offer marketers multiple benefits. They generate buzz for new products by reaching key influencers; they bypass traditional media to connect with hard-to-engage segments (such as multitasking youth); they communicate brand messages in ways that consumers interpret as more authentic; and they deliver deep customer insights.
In our interviews with chief marketing officers and our research with the Association of National Advertisers, we were struck by the expressed need to develop more robust analytics focused on ROI and consumer insights. There was a nearly uniform desire among respondents to concentrate advertising resources on those consumers who were, as one CMO told us, "specifically in the market for my category, product, or brand."