Fortunately for CEOs, this also suggests that the decade-long increase in turnover (especially performance-related turnover) will likely flatten out; in fact, it has begun to do so. Practically speaking, CEO turnover can't increase indefinitely. Some CEOs create considerable value: Investors and the boards that represent them want these CEOs to remain in their jobs. Necessary transformations of companies typically require three or four years. Since the stock market's initial reactions to the transformations aren't very accurate predictors of a new chief's ultimate success, boards are better off waiting a few years to fully assess a CEO's record before removing him or her for "underperformance." Otherwise, CEOs won't undertake essential changes that deliver bad financial news before good. Removal of CEOs before the results of their strategies became apparent would have a chilling effect on innovation and would foster mediocrity. In addition, succession planning is time-consuming and expensive. Boards of directors are likely to recognize all this during the next few years, if they haven't already.
Logically, then, the rate of CEO turnover should reflect regular departures of CEOs in office for many years plus the merger-driven and performance-related departures of CEOs who last launched a transformation three or four years earlier. Exhibit 3 presents our estimates of the new, normal, logical level of global turnover.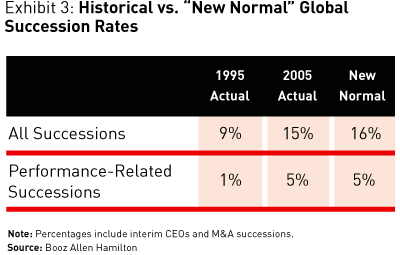 The trends in CEO successions support this hypothesis. For example, we argued last year that turnover in Europe and Asia/Pacific had become unsustainably high, with far too many CEOs forced out in their first two years because of the stock market's initially negative response — dismissals that occurred before any benefits from the new chiefs' strategies were apparent. This bloodletting, we believe, reflected the sweeping governance changes in those regions in the late 1990s and early 2000s, which took place before the governance reforms in the United States. CEO turnover in Europe in fact declined from 16.8 percent in 2004 to 15.3 percent in 2005, due largely to fewer premature dismissals. The decline in Asia/Pacific was even larger.
In North America, on the other hand, the governance reforms of 2002 and 2003 in the U.S. — the Sarbanes-Oxley Act's provisions on board composition and oversight; new rules from the New York Stock Exchange, the American Stock Exchange, and the Nasdaq; and recommendations from private organizations like the Business Roundtable, the National Association of Corporate Directors, and the Council of Institutional Investors — changed the behavior of boards. Total turnover in North America rose from 12.9 percent in 2004 to 16.2 percent in 2005. Many long-serving underperforming CEOs were pushed out, including Peter Cartwright (Calpine), David Goode (Norfolk Southern), Robert Waltrip (Service Corporation International), and Disney's Michael Eisner (although, to be fair, Disney performed well in Mr. Eisner's final year).
Once long-standing underperforming CEOs are gone, turnover in North America should stabilize at levels slightly lower than those in Europe and Asia/Pacific. (One reason for the lower North American levels is the disproportionate share of "company builders" in the United States: successful entrepreneurial founders who remain as CEO for more than a decade. These individuals include Larry Ellison at Oracle, Fred Smith at FedEx, and many others.)
Recent governance reforms have produced other improvements. For example, surprised by the rapid uptick in CEO turnover at the start of the millennium, many boards found themselves without attractive succession candidates. However, succession planning has improved, and in both 2004 and 2005 the proportion of outsiders has fallen. (See Exhibit 4.)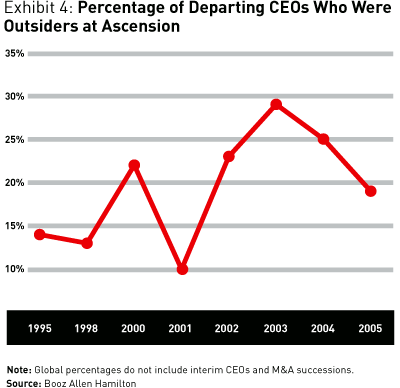 The Board's Dilemma
Because of the increase in CEO turnover, boards of directors have had to spend much more time on succession planning in the past few years. Any board facing the departure of a CEO (whether planned or performance-related) has an array of possible choices, each with its pluses and minuses. The results of this year's study suggest that three of the most popular CEO recruitment strategies, all of which appear prudent and effective, don't actually work well in practice.