As companies contract for increasingly sophisticated services, of ever-higher value, from outside suppliers, innovation has inevitably become a prime candidate for offshoring. It has long been common wisdom that smart companies don't outsource the core operations that define them and set them apart from the competition. But that is starting to change as companies contract out elements of their engineering, design, and research and development. Innovation is going global, with pockets of technology and engineering expertise springing up for rent in Asia, Eastern Europe, even Africa. Smart companies are dramatically reconfiguring their processes and innovation footprint — the physical network of operations — to take advantage of that trend.
We are witnessing the early stages of a revolution in innovation services. A new study by Booz Allen Hamilton and India's National Association of Software and Service Companies (NASSCOM) — the first study to assess the evolving global market for engineering and technical services — finds that the worldwide sourcing of innovation is growing far more rapidly in such nations as India, China, Thailand, and Brazil than anyone expected a few years ago. As that growth continues, it will reshape the way companies think about how and where they conduct research and development. Unlike nonengineering information technology, manufacturing, and business processes — other areas that companies frequently offshore — innovation sits at the very heart of any corporation's strategy, hones a company's competitive edge, and serves as the engine for growth.
The Booz Allen/NASSCOM study provides comprehensive insight into the market for offshored engineering and technical services. According to the study, current global spending on offshored engineering is $15 billion. By 2020, the figure will expand by an order of magnitude to $150 billion to $225 billion (see Exhibit 1), with the growth coming from emerging markets such as India, China, and Russia. And although the impetus to reduce labor costs accounts for more than 90 percent of offshored innovation work in emerging markets today, that goal will give way during the next 10 years to more strategic priorities: market access, resource quality, increased productivity, and expanded capacity. The research shows that this trend will continue to pick up steam as more companies realize that the decision to offshore engineering processes can lead to real gains in quality and productivity over in-house levels.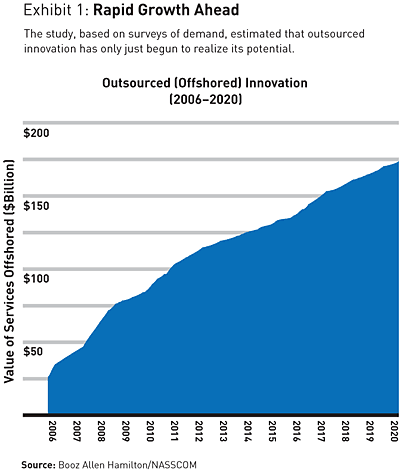 The study examined the market for engineering services — product and component design, plant design, process engineering, and plant maintenance and operations — across a number of sectors: automotive, aerospace, technology/telecommunications, utilities, and construction and industrial machinery, which together account for the bulk of the world's corporate R&D spending. Among the other findings of the study:
• The rapid pace of global spending on engineering services shows no signs of slowing. There are two main drivers: 1) the growing demand for ever more complicated consumer and industrial products, particularly in India and China; and 2) the increased electronic and software content of everything from toys to airplanes that makes for more offshorable engineering work.
• Western economies are facing a severe shortage of skilled high-tech workers, especially engineers. In part, this is the result of an aging work force; in part, it stems from a 10-year-long pattern in which fewer students in the United States and Europe have chosen engineering as a profession. Though the demand has picked up, the education trends have not yet reversed in the West. Companies in developed nations may have no alternative but to look overseas for talent and capacity.
• China is producing far more tech-savvy workers than is the U.S. (650,000 a year in China versus 220,000 in the U.S.). India, meanwhile, produces 95,000 graduates a year in electrical, information technology, and computer-science engineering — the kind in highest demand — while the U.S. turns out 85,000 a year. As demand climbs for engineering skills, any company that relies on engineers will have to fill part of that demand in Asia. The Booz Allen/NASSCOM study estimated that as many as 6 million engineers are available in emerging markets to take on R&D assignments of all sorts. Twenty-eight percent are in India, and 11 percent are in China.