Our survey results highlighted all of these stress points within manufacturing organizations. But although the mandate to save a company's manufacturing base can seem overwhelming, some companies are finding ways to rise to the challenge. The difference between those that succeed and those that fail has to do with the way the manufacturing function is structured, the responsibilities and tactical vision of the manufacturing chief, and the level of integration between operations decision making and strategic decision making for the enterprise as a whole.
Position in Limbo
Organization charts have no clearly delineated area for manufacturing. Direct responsibility for the manufacturing function can reside with a chief operating officer (COO), with a senior executive who oversees only manufacturing, with a business unit general manager, or with a country or regional chief. Two-thirds of survey respondents' manufacturing plants report directly to a corporate-wide COO or senior vice president (SVP) of manufacturing, and the rest report to the leader of a division, business unit, or region.
This ambivalence about the head manufacturing position even extends to its name. Unlike other positions with consistent titles, such as chief financial officer or chief information officer, the head of manufacturing in any given company may be called an operations director, manufacturing director, production director, senior vice president, or chief operating officer.
Many Jobs in One
Regardless of who oversees the manufacturing function, it's likely that manufacturing is just one item on a busy agenda. In fact, to judge from the results of our survey, a manufacturing head who had to worry solely about factories might feel as if he were on vacation. In constructing the survey, we asked about seven typical supply chain–related functions: product R&D, process R&D, sourcing, supply chain planning, logistics and distribution, sales and marketing, and customer service. Not only did our respondents agree that they were involved in several (sometimes all) of these functions, but they also named additional activities in other areas. These included human resources, accounting and finance, information technology, and recruiting. (See Exhibit 1.)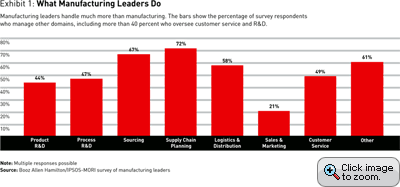 The range and reach of the manufacturing chief's job vary even within industries. In aerospace, for example, Airbus's SVP of manufacturing is responsible only for manufacturing, whereas his closest equivalent at Boeing has been in charge of both manufacturing and the supply chain at various points in the company's history. In pharmaceuticals, one Pfizer SVP is solely in charge of manufacturing, whereas his equivalent at Novartis also has all of the technical functions under his wing. And in food, Cadbury has regional manufacturing SVPs, whereas others in the industry have local manufacturing chiefs.
A European producer of light commercial vehicles offers an example of how a manufacturing executive can productively dedicate time to other functions. The head of manufacturing for one product line realized that the vehicle design limited the potential for improved productivity and quality in subsequent vehicles. Solving this problem immediately would have meant working closely with the leaders of research and development. But they had more immediate priorities: an accelerated development time and strict cost targets.
Since the head of manufacturing couldn't enroll R&D directly in the cause, he felt he had no choice but to invest his own time unilaterally. He expanded his responsibilities by becoming a "business intelligence champion." He toured Japanese plants that had embraced lean manufacturing techniques; he reverse-engineered competitors' vehicles; and he asked his production team leaders to systematically analyze their assembly operations. In all three places, he looked for improvement ideas that might be relevant not only to operations, but also to product development. When he presented a list of recommendations for a revised product line to the company's R&D leaders, they recognized its value and began to enhance the design, removing many of the obstacles to better productivity and quality in future vehicles. The manufacturing executive returned to operations.